E-Commerce is bursting at its seams and warehouses are following [REPORT]
07 june 2022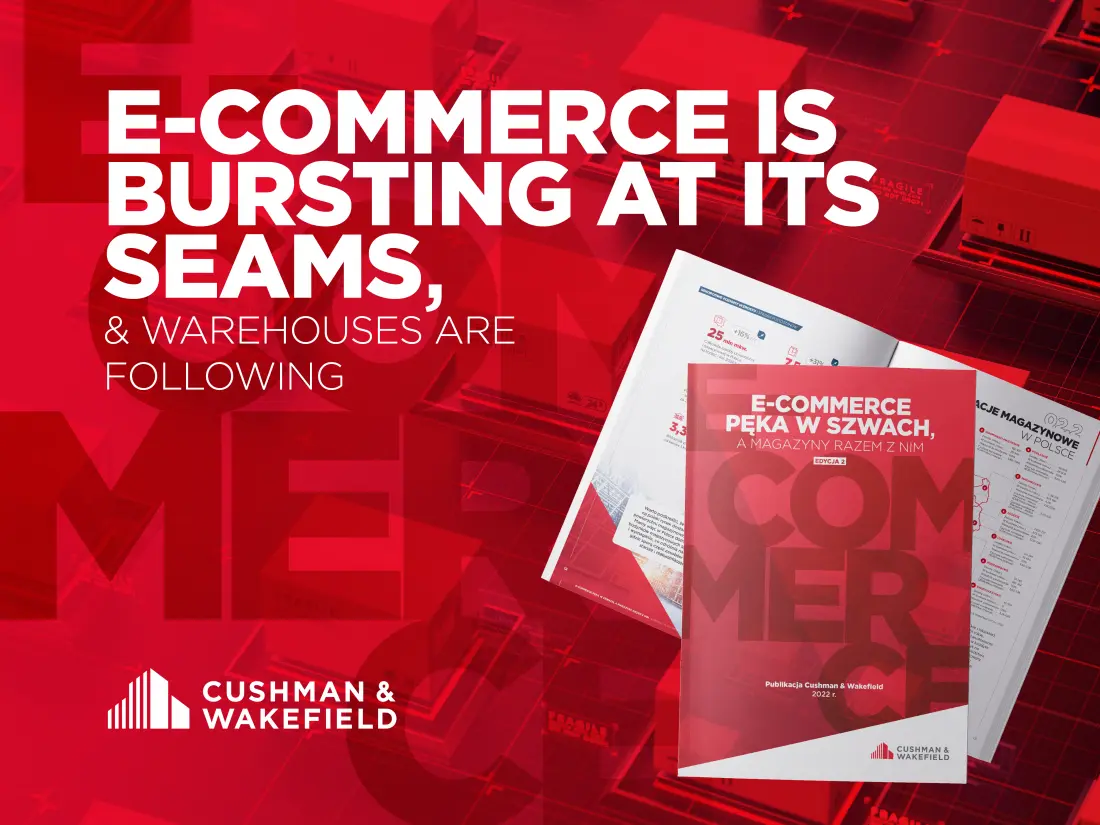 Cushman & Wakefield expert has conducted a second comprehensive survey among developers and leading logistics operators in Poland that illustrates the growth of the Polish e-commerce warehouse market.
Three years have already passed since the launch of Cushman & Wakefield's first edition of its report titled "How to Get the Hang of E-commerce in Warehouses". They were a period of unprecedented growth of online retail sales fuelled by the pandemic and a time of offline and online channels merging into omnichannel, which undoubtedly impacted expectations around not only last mile logistics, but also – probably more than anything else – around warehouse space, its various functions, higher requirements coming from tenants and new locations which three years ago were identified as emerging markets.
In May 2019, when the first edition of our report was being drafted, the Polish e-commerce market was worth more than PLN 50 billion – a staggering figure that we expected to climb to PLN 80 billion in the next few years. The online retail penetration rate was a similar story. It stood at less than 5% as there were over 30,000 online stores at that time. Poland's warehouse stock comprised just over 16 million sq m while another two million was in the pipeline - says Damian Kołata, Partner, Head of Industrial & Logistics Agency Poland, Head of E-Commerce CEE, Cushman & Wakefield.
Today, three years later, we already know that the pandemic has reshaped e-commerce in Poland and the world. The value of the Polish e-commerce market in the pandemic year 2020 surpassed PLN 100 billion, with as many as 77% of internet users shopping online, up by 15 percentage points on 2019. The rise of e-commerce also translated into growing levels of interest in the sector from companies. The number of e-retailers rose significantly both in 2020 and in 2021 – at the end of December 2021 Poland had over 52,300 online stores compared to close to 44,500 in early January 2021.
Poland Statistics (GUS) also began to recognize e-commerce as a separate category. According to official statistics, the average online retail penetration rate stood at 9% in 2021, up by over 100% on 2019, soaring to 10.8% in April 2021 and 11.4% in November 2021. The warehouse market is also setting new highs. Poland already has over 25 million sq m of modern warehouse space and another 4.5 million sq m is under construction.
We were convinced that the strong momentum in the warehouse development market would also boost the growth of e-commerce warehouse space (which space accounted for 24.5% of Poland's total warehouse stock in the first edition of our report), but we didn't foresee it would grow so exponentially.
Our latest report also examines the increasing role of ESG and the growing popularity of logistics outsourcing, as well as the key directions of e-commerce growth such as omnichannel, re-commerce, q-commerce and last mile logistics. All these trends are substantially shaping Polish warehouses, where they are built and what uses they are put to.
Was this article helpful?
Download now!