Marketbeat: Poland warehouse market - Q3 2019 [REPORT]
14 november 2019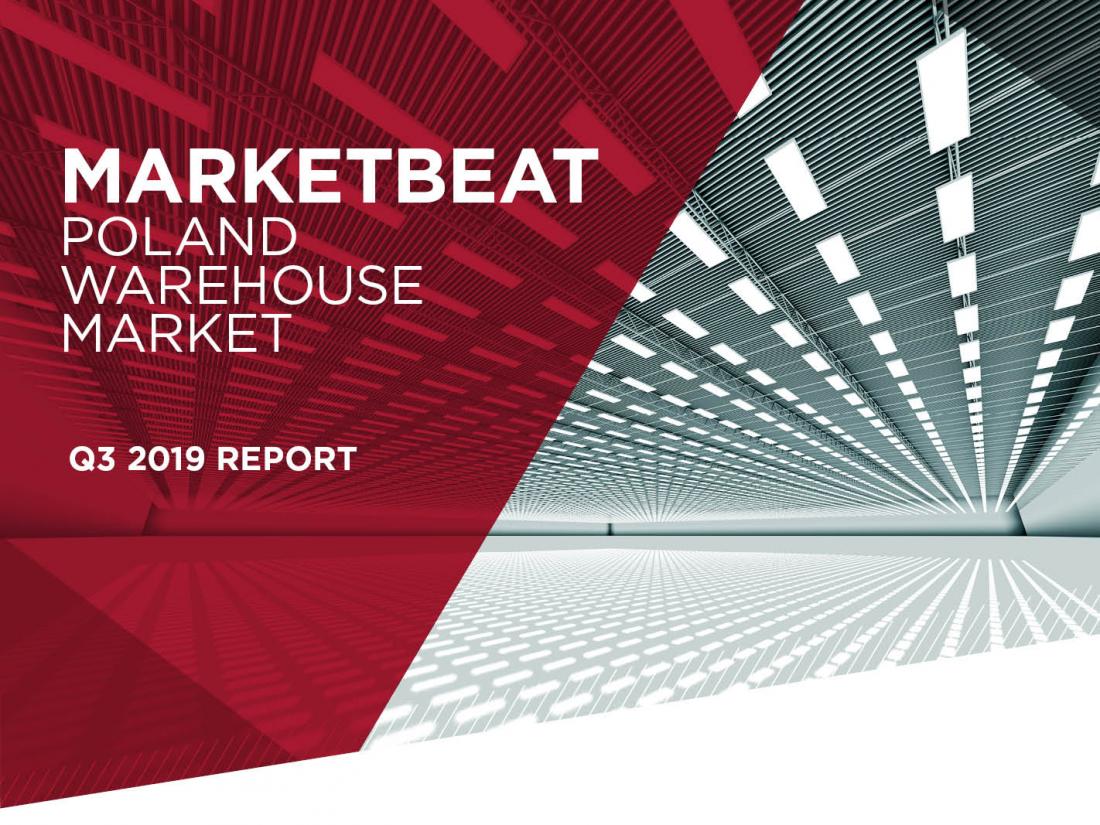 The record supply level and high demand prove the very good condition of the warehouse space market in Poland. In the third quarter of 2019, developers completed 868,000 sq m of warehouse space, and since the beginning of the year - almost 2 million sq m, which is a record supply level in the period from January to the end of September.
Record-high supply levels
Warehouse supply set an all-time high in January-September 2019, with 1.96 million sq m completed (+38% year-on-year), bringing Poland's total industrial stock up to 17.76 million sq m. The third quarter of 2019 alone saw 868,000 sq m delivered to the market across 30 projects. The largest volumes of warehouse space were built in Upper Silesia (360,000 sq m), which witnessed Panattoni's completion of a BTS scheme in Gliwice with a record-breaking usable area of 210,000 sq m, followed by Central Poland (152,000 sq m) and Wrocław (98,000 sq m)
At the end of September 2019, there was 1.82 million sq m of warehouse space under construction across 64 projects. Nearly 81% of the projects are underway in the five core industrial markets, including Warsaw and its suburbs (23%, or 423,000 sq m), Wrocław (19%, or 337,000 sq m) and Upper Silesia (18%, or 330,000 sq m). Developers are also targeting smaller regional markets such as Tricity, Bydgoszcz-Toruń and East Poland, whose development pipeline comprises approximately 80,000-100,000 sq m. 
Growing interest in urban logistics
Development pipeline remains dominated by logistics parks offering big-box warehouse units and by Build-To-Suit schemes tailored to individual tenants' requirements. Development activity is also accelerating in the segment of urban logistics facilities offering Small Business Units sized between 500–1,500 sq m with ancillary office space built to a higher standard. 
Such projects are being developed in urban areas or in their immediate vicinity. Their growth is being driven by the expansion of e-commerce and the need to cut delivery times in the largest metropolitan areas, and remains underpinned by further road infrastructure improvements connecting key transportation routes to central locations and ring roads.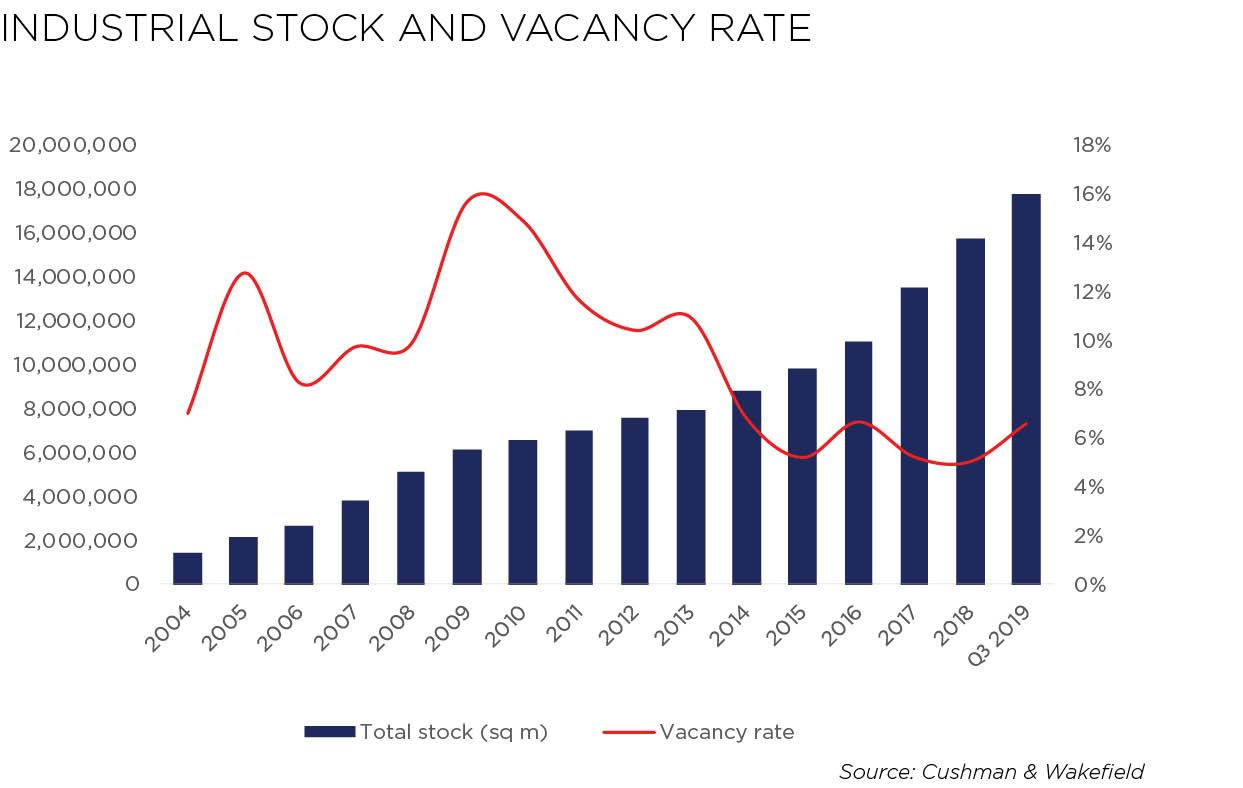 Still high tenant activity
The volume of lease transactions amounted to 973,000 sq m in Q3 2019, while net take-up came to 650,000 sq m (+9% year-on-year). Of all the regions, Warsaw Suburbs and Upper Silesia accounted for an approximately 60% share of total warehouse take-up, with 391,000 sq m and 219,000 sq m transacted, respectively. By sector, as in the same period last year, take-up predominantly came from logistics operators (a 35% share of the leasing volume), followed by retail chains (16%), the automotive sector (10%), light manufacturing (6%) and courier services (6%).
Although occupier activity remains robust, this year's total take-up is unlikely to surpass the record high of around 4 million sq m transacted in 2017 and 2018. The first three quarters of 2019 witnessed a subdued demand for large warehouse spaces in excess of 20,000 sq m amid a comparable number of transactions. Total take-up hit 2.77 million sq m, which represented a 5% decrease year-on-year. 

Net take-up comprising new leases and expansions amounted to 1.83 million sq m, down by 16%. Renegotiations accounted for a growing share of total take-up (34%, or 941,000 sq m), spurred by the expiry of leases signed in the years 2014-2016, which saw a surge in warehouse demand – said Adrian Semaan, Research Consultant, Cushman & Wakefield.
Vacancies - it's easier to lease the warehouse space
High supply levels pushed the volume of unoccupied warehouse space in Poland up to approximately 1.17 million sq m at the end of September 2019. The overall vacancy rate stood at 6.6%, up by 2.1 pp year-on-year and up by 1 pp compared to where it was at the end of June 2019. The highest vacancy rates were in Warsaw Inner City (12.6%), Tricity (10.3%), Krakow (9.6%), and in Central Poland (8.7%), which reported the highest year-on-year increase (+7.2 pp). Vacancy rates on other markets ranged between 4.1% in Warsaw Suburbs and 8.3% in Poznań. Similarly to last year, there was no vacant warehouse space in Western Poland, where new projects are developed on a pre-let basis only.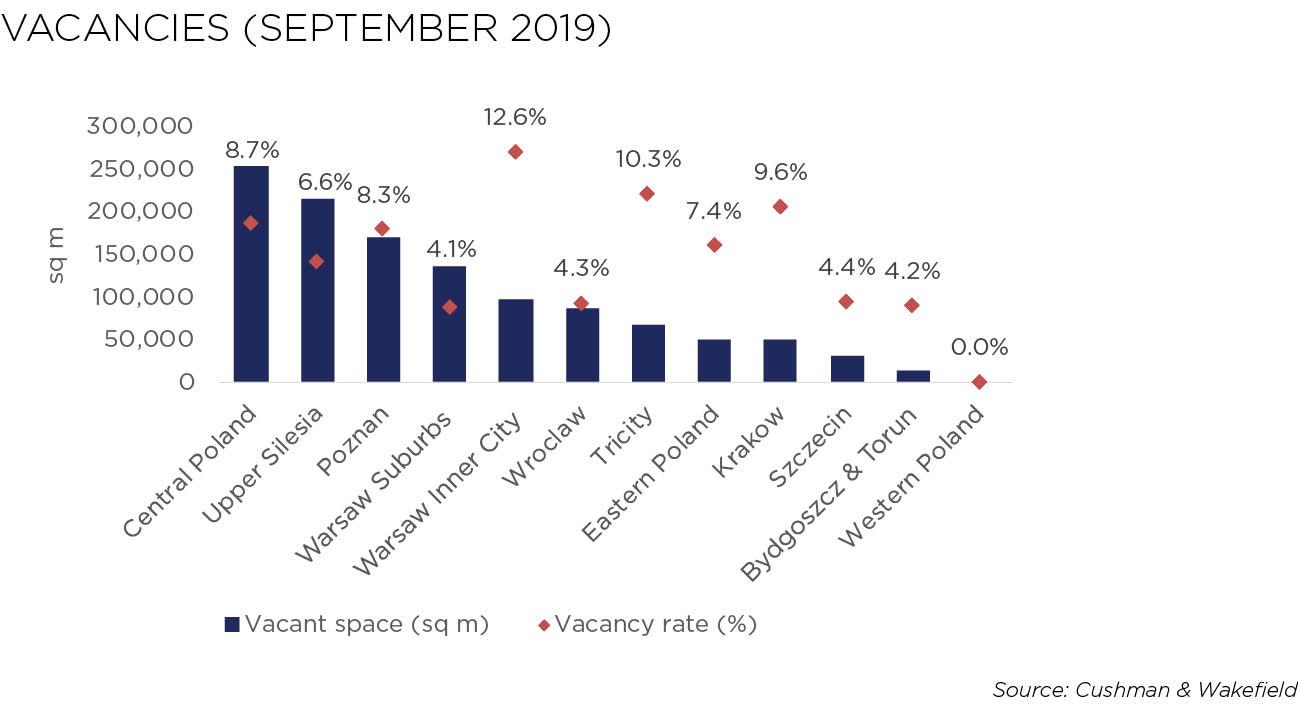 Rent levels remain stable
Base rents remained flat across most Polish industrial markets in Q3 2019. The highest are in Warsaw Inner City, with Small Business Units in Warsaw-Okęcie and Warsaw-Żerań fetching EUR 4.80–5.25/sq m/month, and in Krakow (EUR 4.20/sq m/month). On other markets, big-box warehouses sized 2,000 sq m and upwards command much lower base rents ranging between EUR 2.50–3.80/sq m/month. 
The highest effective rents standing at EUR 4.50/sq m/month are in Warsaw Inner City, with the lowest ranging between EUR 2.10–3.20/sq m/month in Poznań, Central Poland and several locations in Warsaw Suburbs. The current oversupply, which is expected to be temporary, has halted the upward trend in rental rates that has continued since early 2018. Going forward, tenants stand a good chance of securing favourable lease conditions in coming months.
Outlook
Looking ahead, the growth outlook for the Polish industrial market remains positive. Robust occupier demand, albeit weaker than a year earlier, continues to be fuelled by the rapid expansion of e-commerce reporting increased requirements for logistics space to fulfil both domestic and overseas online orders.

Leasing activity is also being driven by growth sectors including the automotive, home appliances, FMCG and light manufacturing. These factors combined with competitive warehouse rents and further road improvements are expected to keep the Polish industrial market on course for further growth – said Joanna Sinkiewicz, Partner, Head of Industrial & Logistics department, Cushman & Wakefield.
Learn more about the Poland warehouse market in Q3 2019 - download the latest "MARKETBEAT" report!
Was this article helpful?
Download now!