A warehouse for e-commerce. How to choose the right one?
29 may 2022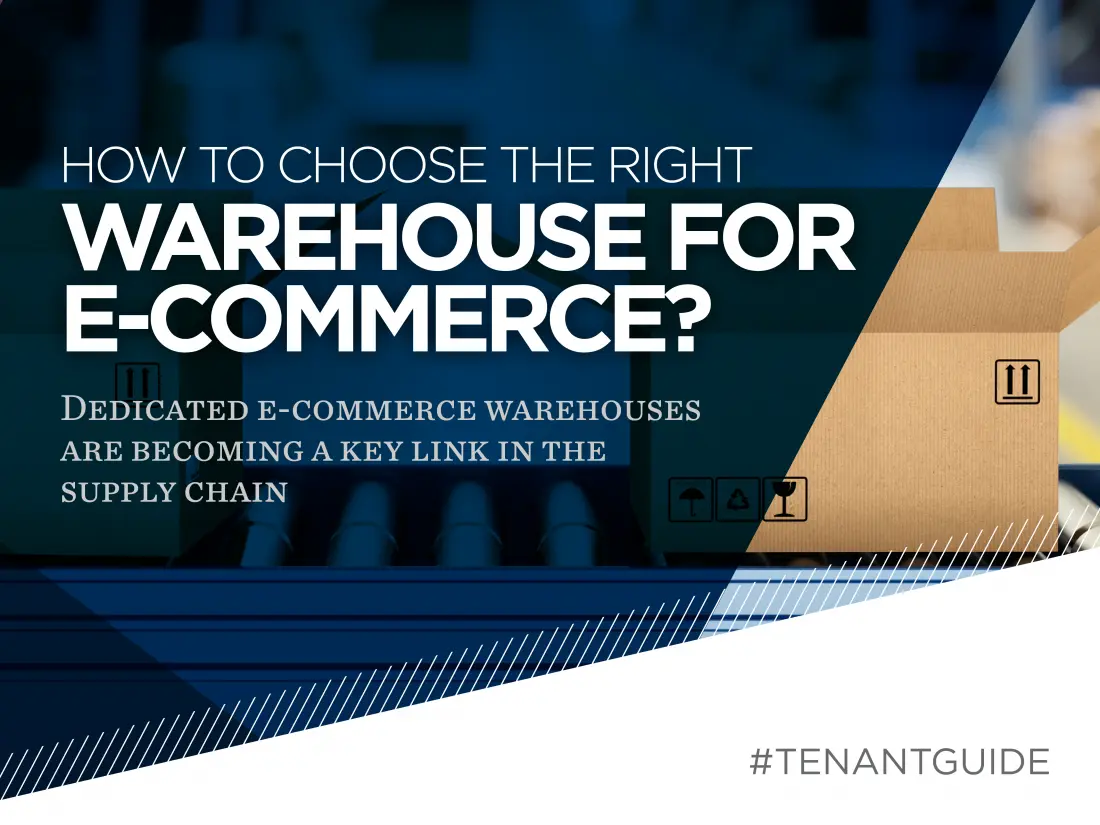 With the rise of e-commerce and omnichannel, creating an efficient warehouse or fulfilment centre is becoming an increasingly pressing challenge. Dedicated e-commerce warehouses are emerging as a key link in supply chains while their expansion is being powered by continuously growing demand.
Warehousing and shipping are key tasks for any e-commerce company and the configuration of an e-commerce warehouse does not require much effort from an entrepreneur provided the service is contracted to experienced professionals.
The timeliness and high quality of order fulfilment will impact the final customer satisfaction, NPS and volumes of returns whose costs will frequently cut profit margins. The efficiency of intralogistics and warehousing processes will determine the amount of space needed for order processing.
Calculate the warehouse space you need
Planning a warehouse begins with a simple question: "How much warehouse space do I need?" It is good to start with calculating the number of SKUs, pallets and cartons you are planning to store; then multiply the total by the space occupied by an average pallet or carton.
Don't worry if the result greatly exceeds the total area of your warehouse. Remember that you should calculate your storage capacity in cubic metres, because you will probably be using storage systems and racks to make the best use of your warehouse space.
In practice, as is often the case with many warehouses, only the required warehouse space is calculated, without accounting for other warehousing operations. It is advisable to secure space for additional processes such as:
Reception, including unloading, quality assurance and labelling;
Expansion as additional space is very likely to be required soon after operations are launched;
Short-term storage (space for any orders that have not been dispatched on the same day);
Shipping (not only packing and shipping, but also quality assurance, labelling and destacking pallets); and
An additional area for returns and dead stock.
Warehouse equipment
Professional warehouse equipment may be required depending on the type and size of products and a business model. In principle, most e-commerce warehouses or fulfilment centres have the same primary goals: to maximize space and to increase the flow of goods for maximum efficiency.
Given the above, warehouse equipment can be divided into four main types depending on their operational functions:
Storage: high and low storage racks, pick towers and smaller containers and drawers;
Transportation: a broad category comprising transportation equipment, equipment for loading unitized items and equipment for storage and picking;
Packing and shipping: everything that is needed to pick, pack and label orders to get them ready for shipping; and
Barcoding equipment and inventory management software. Such equipment in modern warehouses deserves to be considered as a separate category. Barcoding equipment includes barcode readers, printers, labels and dedicated software.
Automating repetitive processes
Automation is an effective way of improving efficiency. It has made viewing and buying products online much easier. So why not automate warehousing processes for e-commerce?
Automation does not necessarily mean that the existing processes have to be revolutionized. In fact, automation at its best focuses on relatively small investments in key areas.
Process planning
Once the final layout of space, a labelling system and equipment have been chosen, it is time to consider the actual picking paths throughout your warehouse.
A good warehouse management system will help choose optimized picking paths. However, you should take account of a few important principles:
There are various methods of order picking (wave picking, batch picking or zone picking).
The picking sequence should be linear and warehouse employees should complete the picking process close to the shipping area.
Orders should be fulfilled such that items from one area are picked before moving on to another area.
Items frequently bought together should be stored close together.
If warehouse employees have to go back or often criss-cross their picking paths, you should reconsider optimizing your warehouse.
Warehouse staff training
Training is not only about passing on knowledge. It is mainly about teaching employees skills that are key to working efficiently. Training costs will pay back over time through greater speed, efficiency, work safety and fewer errors.
Warehouse management system software
Warehouse management systems come in various price ranges and with diverse functions. Below are a few key features of good quality software:
reception of incoming goods and inventory control (end2end),
picking/packing/shipping management (with oriented, optimized workflows and time schedules),
user-defined reports/KPIs,
key alerts,
easy integration via API; and
scalability.
KPIs and performance measurement
Setting up a warehouse is one thing but knowing that it has been configured in the most optimal way is a completely different matter. KPIs can be used to evaluate the outcome – they help identify bottlenecks, plan warehousing operations and measure overall customer satisfaction.
There are 20 or more key performance indicators that can be tracked to support optimal warehouse management while a good warehouse management solution should be able to aggregate all data in a single place. Key indicators include the following:
Inventory turnover per interval (or for a pre-defined portion of inventory).
Order fulfilment time: the total time required to process an order, including picking, packing and shipping.
Returns rate: the rate at which items are returned. Customer service teams should also record the reasons for returns to identify the source of problems: receiving, picking, quality control, etc.
Transport cost per parcel: the total cost of transporting an SKU or order, including the costs of labour and handling equipment, etc. This indicator proves the importance of the efficient layout of a warehouse with a good and appropriate picking line.
Pitfalls and conclusions
The configuration of an e-commerce warehouse and warehousing processes is rarely ideal at its inception – and even if it begins well, there may be pitfalls ahead. As new products, new technologies, software and new business models are continuously developed, what worked several months or years ago may not be optimal today. Continuous change management and process optimization will certainly help support process efficiency in an e-commerce warehouse.
Was this article helpful?