Is the coronavirus pandemic a chance for warehouse sector? About e-commerce, future, and trends
20 april 2020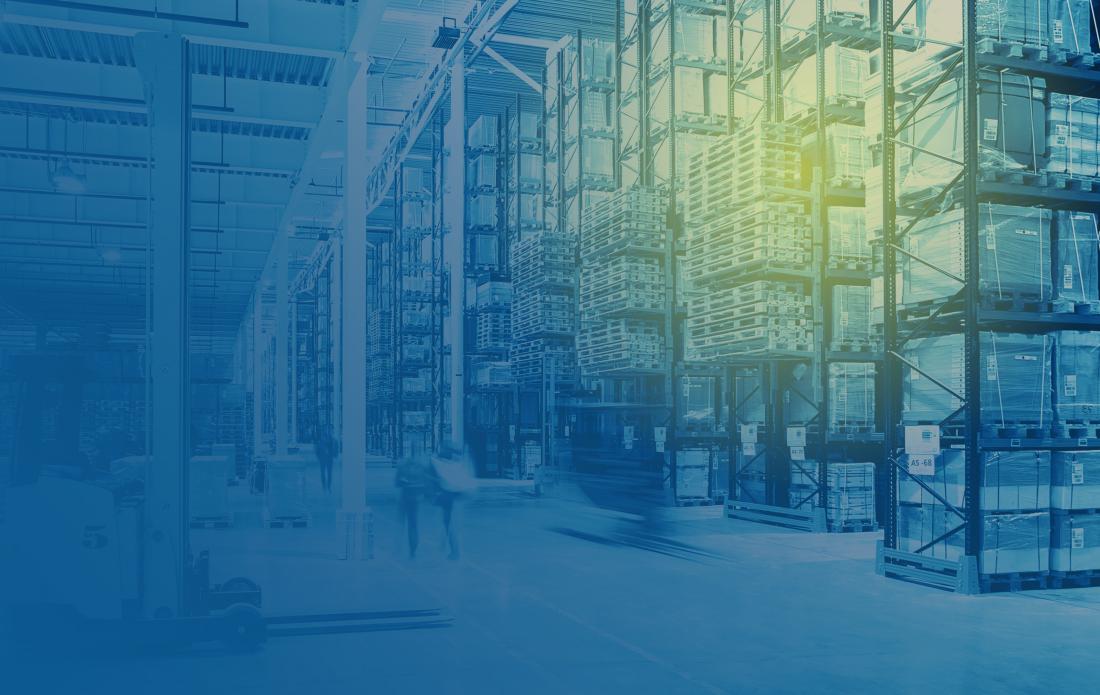 How will the coronavirus pandemic affect the e-commerce industry? Damian Kołata talks about the market situation, warehouses of the future and logistics trends.
The current global situation has a major impact on multiple sectors. Contrary to appearances, it could be a turning point for some. Damian Kołata, Associate, Senior Business Development Manager at Cushman & Wakefield, talked about opportunities for e-commerce and how to adapt a warehouse to the new reality at the first meeting of a series of online webinars titled: "A black swan, a white flag or a green island? How to adapt a warehouse to the new reality?".
Growth prospects
The webinar was intended to show the directions and prospects of e-commerce growth in the near future. Damian Kołata, who chaired the meeting, presented an overview of the Polish market and emphasized that food retail and online retail were poised to be the best-performing sectors. This is demonstrated by data as these sectors recorded a 100% growth in online orders compared to last year. What's more, people who used to be reluctant to shop online have now been pushed to the online realm and … are likely to continue there. E-commerce will further increase its share of retail sales, as illustrated by China.
Alibaba sees the 2003 SARS epidemic as a turning point in its growth. It attracted 4,000 new contractors who posted a fivefold increase in turnover compared to the pre-epidemic levels. A similar situation took place in the case of JD.COM, whose owner moved 12 brick-and-mortar stores online to generate USD 80 billion in annual turnover. It is clear that the epidemic can be seen as a turning point - says Damian Kołata.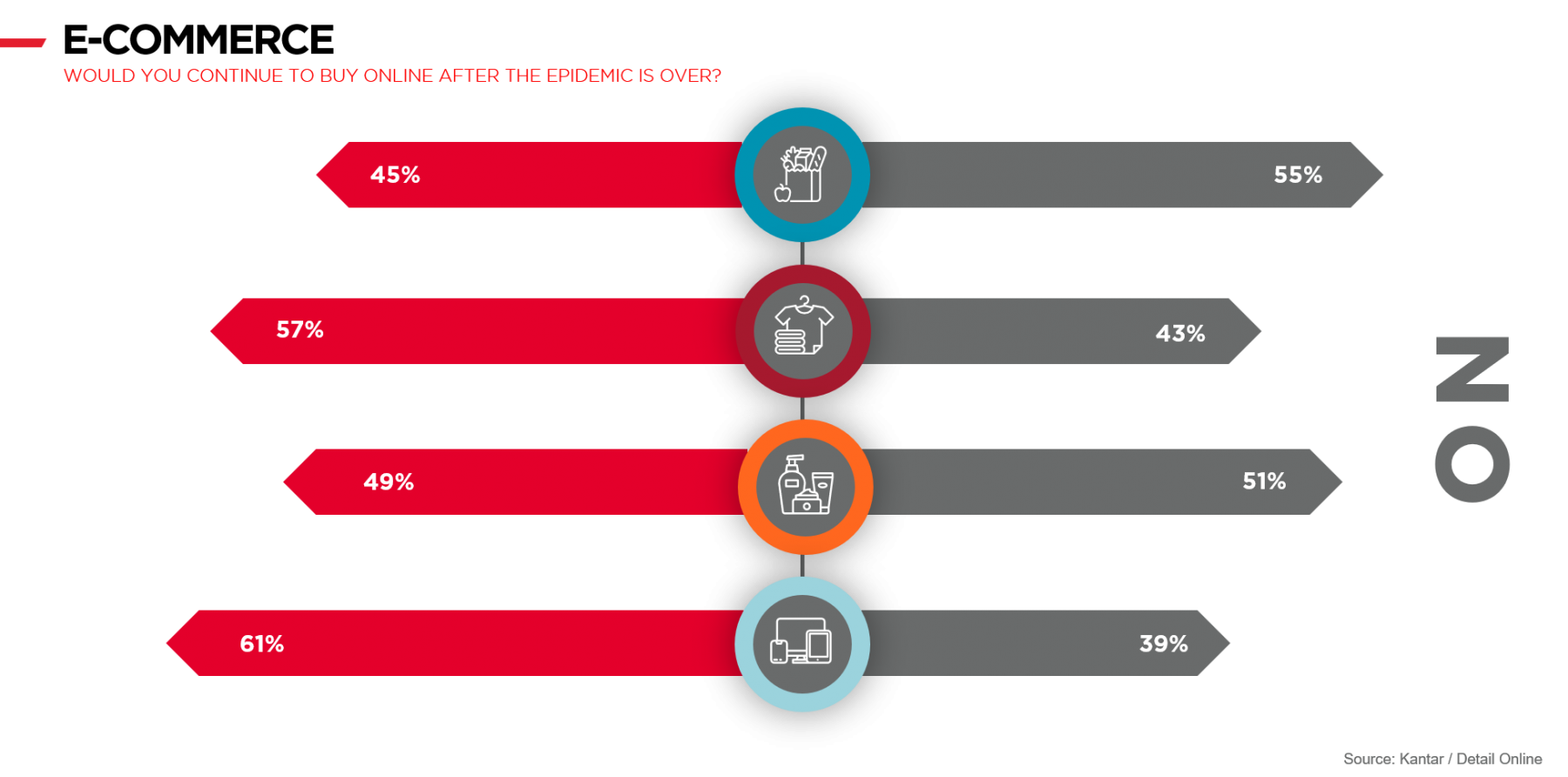 Poland poised for changes
E-commerce also rules supreme on the Polish market. The pandemic is driving companies to roll out new solutions. Eurocash is thinking about hiring 2,000 new employees and many companies are planning to enter the e-commerce market despite some earlier concerns. We may risk a statement that if not the epidemic, Żabka and Biedronka would not have moved online so quickly. Other notable ventures include the start of Kaufland's cooperation with Mango, and Media Markt establishing an online presence on the Allegro platform.
Warehouse space for e-commerce
With online sales on the rise, e-commerce needs to consider new challenges and adapt warehouse space to the new reality. Warehouses for e-commerce differ considerably from those dedicated to other sectors. They have to fulfil many requirements and, in particular, they have to enable various forms of storage and order picking, and provide a returns processing zone. Value-added services include returns management, co-packing, labelling, packing, adding various leaflets and samples, and packaging management. Warehouse space must also be well-lit and allow daylight penetration in addition to providing the right temperature and welfare facilities.
Focus on returns
The webinar focused particularly on the returns processing zone. Research shows that 86% of shoppers will go back to a retailer who has a free returns policy, and 62% of customers will not shop in a store that does not offer hassle-free returns. Returns management is a difficult logistical operation but – as illustrated by the above data – it is essential in e-commerce. Interestingly, Damian Kołata says that logistics operators themselves can impact significantly on the level of returns. According to research, 30% of all returns are due to the poor condition of parcels reaching recipients.
Warehouses of the future and automation
Are robots and automation the future of warehouse logistics? Cushman & Wakefield's expert listed 10 situations where it is worth investing in automation: to substantially improve efficiency, to eliminate bottlenecks, to increase precision in logistics, trading in easily countable goods, a tight labour market and labour shortages, to improve security of goods, limited space, trading in large-sized products, rapid growth, and a strong focus on sustainability and energy-saving. Going forward, there will be strong demand for machines that will feature multiple sensors, can collaborate with people and learn as they go along, says the expert.
10 logistics trends
10 key logistics trends highlighted by the expert of Cushman & Wakefield were the cherry on top. They will include the following:
1. The opening of online channels by offline-only retailers that previously did not consider going online. According to shoper.pl, interest in opening an e-store increased by half in March 2020 year-on-year. Several retailers have either launched or been testing e-stores in recent weeks or are planning to begin online sales, including the following:
Ziaja has announced in its press release: "We are pleased to inform that we have already been working on the launch of our first Ziaja e-store for some time. Preparations are at a very advanced stage. Due to the extraordinary situation we are all in now, we have decided to expedite our efforts. The store is scheduled to open in early April."
Stokrotka is opening a "Click & Collect" online store. As part of a pilot programme, for the time being, purchases can be collected only in one store in Lublin. Stokrotka will soon make this service available in stores in other cities;
Jean Louis David has in double quick time made cosmetics used in its hair salons available for purchase on its newly-created website;
is launching its new online shopping service with home delivery. Via the Mango platform, internet users will be able to buy a special pack of essential groceries and hygienic products. The pack will include 32 items that are the most popular with shoppers such as pasta, rice, flour, tea, oil, chocolate, instant noodle soups, milk, pâté, kabanos sausages, juices and toilet paper;
Żabka is piloting Click & Collect services (about a dozen stores in Warsaw) including home deliveries (in Poznań Jeżyce and Łazarz).
2. E-grocery widely available across the nation. Many people who have felt uneasy about online food ordering will certainly embrace this option. With this trend gaining traction, deliveries to your door will also be offered by small retail chains as part of the ffs (fulfilment from store) service. Such services are already being provided by many stores of Chata Polska and Delikatesy Centrum.
3. New delivery methods. The epidemic in China has caused an unprecedented boom for autonomous vehicle deliveries, widely available from JD.com. It will probably be many months before we see them in Polish streets, but the CEP sector is clearly considering such delivery methods more seriously than at the start of the year. This applies not only to autonomous vehicles, but also various contactless deliveries (for example by drones). The alarming spread of the pandemic across the US will certainly boost interest in autonomous vehicle deliveries, for instance, by Walmart, which has partnered with Nuro on the R2 delivery vehicle, which will also be used by Domino's.
4. Growth in categories that we have been taking so far with a pinch of salt such as various pre-owned items including clothing, books and toys. First, sustainable growth and increasingly pro-ecological attitudes of Polish people are helpful in the popularization of such categories. And secondly, crisis times will force consumers to economize and seek additional sources of income, and to limit spending.
5. Localization instead of globalization. We will be more willing to support local stores, helping them to survive the toughest months. So we will look more favourably on small-scale e-commerce projects than before as we have a real impact on whether they succeed.
6. Implementation of risk management projects and business continuity plans on an unprecedented scale, which will also translate into increased inventory levels and diversification in terms of warehouse locations..
7. Same-day deliveries on the rise. Companies will want to be even closer to end consumers, which will also accelerate the growth of warehouses for city logistics that will enable this option.
8. Marketplaces gaining in importance. Marketplaces generated more than EUR 40 billion in transactions in Germany last year, accounting for nearly half (47%) of online retail sales in the country. They include not only Amazon and eBay, but also many smaller marketplaces. In Poland, Allegro enjoys a dominant position, but there is still room for several smaller initiatives on the market, just like in Poland's western neighbour.
9. Further omnichannel growth. Shopping centres will be increasingly seen as entertainment, F&B and service hubs, and stores will turn into multimedia and multichannel places of contact with the customer, serving as pick-up points, showrooms, drop-off points for returns, or even as small fulfilment centres.
10. Special focus on improving safety and hygiene. Coronavirus will not disappear overnight and companies will, therefore, be implementing new safety and hygiene procedures. A few days ago, Ruch announced that it would apply ozone sterilization to all its parcels delivered as part of the "Paczki w Ruchu" scheme, and Lancerto assures that it is introducing a seven-day quarantine for its returns and that customers are sent only new products or returns processed after a quarantine.
The partners of the event were: Nowoczesny Magazyn, Logistyka a Jakość, and Pro Progressio. The webinar began a series of online meetings organised by global real estate services firm Cushman & Wakefield for individual real estate sectors.
Was this article helpful?