How to adapt a warehouse to the new reality? [WEBINAR]
10 april 2020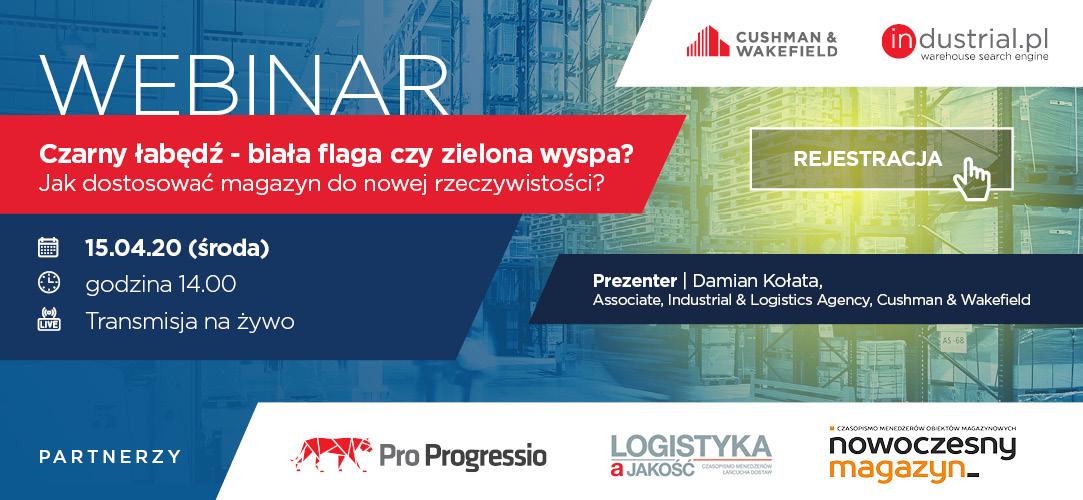 "A black swan, a white flag or a green island? How to adapt a warehouse to the new reality?" the first online meeting dedicated for companies operating on the Polish real estate market. During the online event, which will be conducted by Damian Kołata, we will answer the question how the warehouse market will look like after the COVID-19 pandemic.
The forthcoming webinar will be begin a series of online meetings organised by Cushman & Wakefield for individual sectors in the real estate market. Partners of the event are: Nowoczesny Magazyn, Logistyka a Jakość, and Pro Progressio. This initiative was formed in response to the growing market needs and challenges resulting from the current global situation. 
A lot of attention is being given to the labour market and its challenges during the epidemic. We are aware of the need to support the logistics and e-commerce markets, so we would like to go slightly further and advise tenants and developers on how to prepare warehouse space for the future when life and supply chains return to normal – says Damian Kołata from Cushman & Wakefield.
Warehouse market after the coronavirus epidemic
The webinar is intended to show near-term opportunities and prospects for the industry, backed up by examples, research and reports on logistics, retail and e-commerce. The expert of Cushman & Wakefield emphasises that in order to meet the requirements of e-retailing, a range of conditions need to be met, not only in relation to IT and marketing, but first and foremost with respect to logistics and warehousing.
The meeting's agenda will include the current situation of the Polish e-commerce market, data on the dynamics of online orders and recently-opened e-stores, the challenges of warehouse operations for e-commerce, returns management, examples of process automation, and TOP 10 post-coronavirus logistics solutions.
Register here (the webinar will be conducted in Polish)
More information: poland.industrial@cushwake.com
Was this article helpful?