A strong third quarter for the Polish industrial market
16 november 2023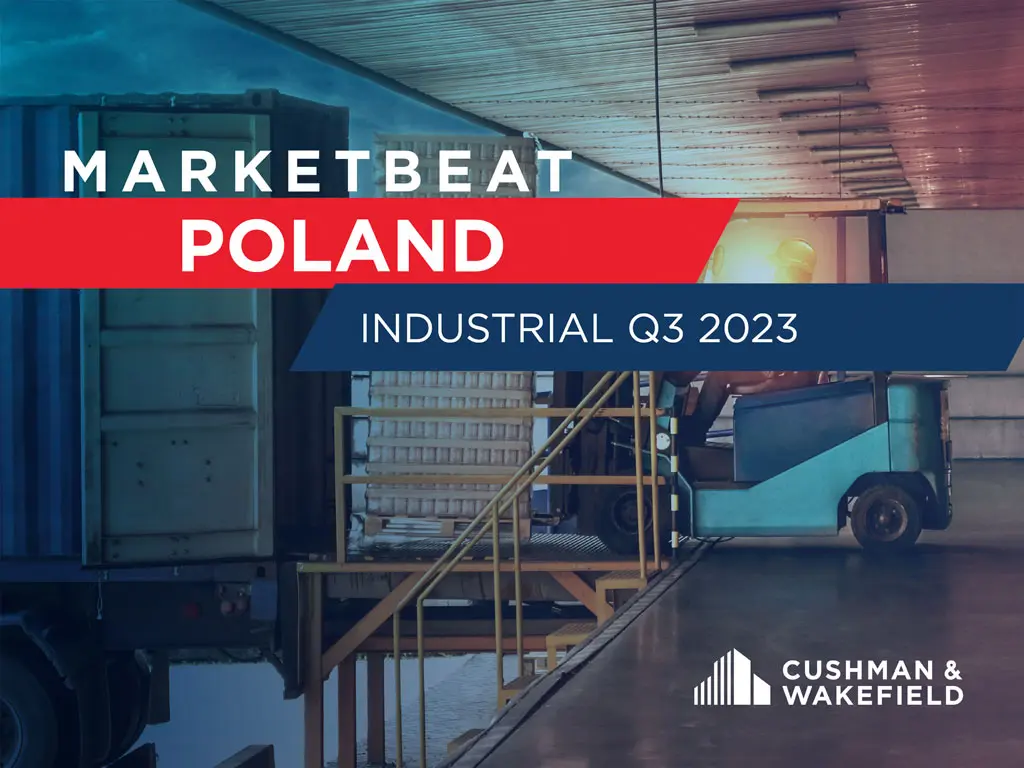 According to the latest report, leasing activity bounced back strongly on the Polish industrial market in Q3 2023. Meanwhile, development activity was largely driven by pre-lets and BTS projects, with rental rates remaining flat in most regions.
DEMAND: Growth driven by large deals
"In the third quarter of 2023, total industrial gross take-up reached 1.5 million sq m - by far the best result for occupier activity this year. Positively, new leases accounted for 1.06 million sq m transacted, an increase of 54% quarter-to-quarter," comments Damian Kołata, Partner, Head of Industrial & Logistics Agency Poland, Head of E-Commerce CEE, Cushman & Wakefield.
The biggest contributors to net take-up in the third quarter were large leases, including Shein taking 127,000 sq m in two facilities in Wrocław, Raben's deals for 154,000 sq m in the Warsaw and Poznań regions, and an international retailer leasing 120,000 sq m in Psary, Silesia.
Total leasing activity in Poland for the year to date surpassed 3.7 million sq m of warehouse space while net take-up - including new leases, BTS deals and expansions only - stood at 2.4 million sq m, down by around 30% year-on-year. It is important to note, however, that these figures are calculated against the record occupier activity posted in the first half of 2022, that is before many international markets began to experience an economic slowdown.
"Logistics once again accounted for the largest share of net take-up for the period January-September 2023 - 37%. Other significant sectors powering the growth of the Polish warehouse market include manufacturing which is benefiting from nearshoring with a 16% share in the leasing volume, and e-commerce which included both e-retailers and logistics companies servicing e-commerce and generated 14% of the net take-up," adds Damian Kołata.
Retailers facing weaker retail sales made up only 9% of the total take-up. Of all the regions, Silesia, Krakow and Tricity saw stable or positive trends in demand. Conversely, occupier activity slackened in Łódzkie, Greater Poland, Lubuskie and Bydgoszcz.
SUPPLY: A significant increase in warehouse availability
As of September 2023, Poland's total warehouse stock surpassed 31 million sq m, up by 14% year-on-year.
"In the third quarter alone, new supply reached 527,000 sq m, bringing this year's total to 3.1 million sq m, of which around 35% remained vacant. High levels of speculative supply, including on the emerging submarkets, pushed vacancy rates up. As a result, total warehouse availability in third quarter of 2023 was more than 2.4 million sq m, double that posted at the same time last year," explains Adrian Semaan, Senior Research Consultant, Industrial & Logistics Agency, Cushman & Wakefield.
The overall vacancy rate rose for another consecutive quarter - at the end of September it hit 7.8%, its highest level in three years. This growth was largely driven by a significant increase in warehouse availability in Łódzkie and in western Poland, with volumes of vacant space remaining at healthy and stable levels on many other core markets.
At the end of September 2023, the warehouse development pipeline comprised 2.5 million sq m, more than half of which was available for lease – mostly in Wrocław (301,000 sq m), Łódź (280,000 sq m), Warsaw (279,000 sq m), Tricity (140,000 sq m) and Poznań (111,000 sq m).
"In the third quarter of 2023, construction works began on close to 900,000 sq m of warehouse space. This represents a healthy level of development activity which is largely being driven by pre-lets and BTS projects. Although the share of speculative construction fell over the quarter from 61% to the current 53%, it still accounts for a significant proportion of the development pipeline on the markets with the greatest capacity to absorb warehouse space in Poland," adds Adrian Semaan.
RENTS: Rental rates hold firm
Warehouse rents remained stable in Q3 2023. Headline rents for big-box projects were in the range of EUR 3.60-6.50/sq m/month, with most rental rates standing at EUR 4.00-5.00/sq m/month. Rents for SBU/City Logistics projects were higher - EUR 5.00-7.00/sq m/month.
With financial incentives such as rent-free periods or space adaptation offered to tenants, effective rents were only lower than headline rental rates by a maximum of 10-20%.
"Benefiting from increased warehouse availability, tenants are likely to have the upper hand in rent negotiations on some submarkets, including western and central Poland. Average rental rates are, however, unlikely to change much due to still high inflation and higher development financing costs," concludes Damian Kołata.
Was this article helpful?
Download now!