Industrial market heads for stability
28 february 2023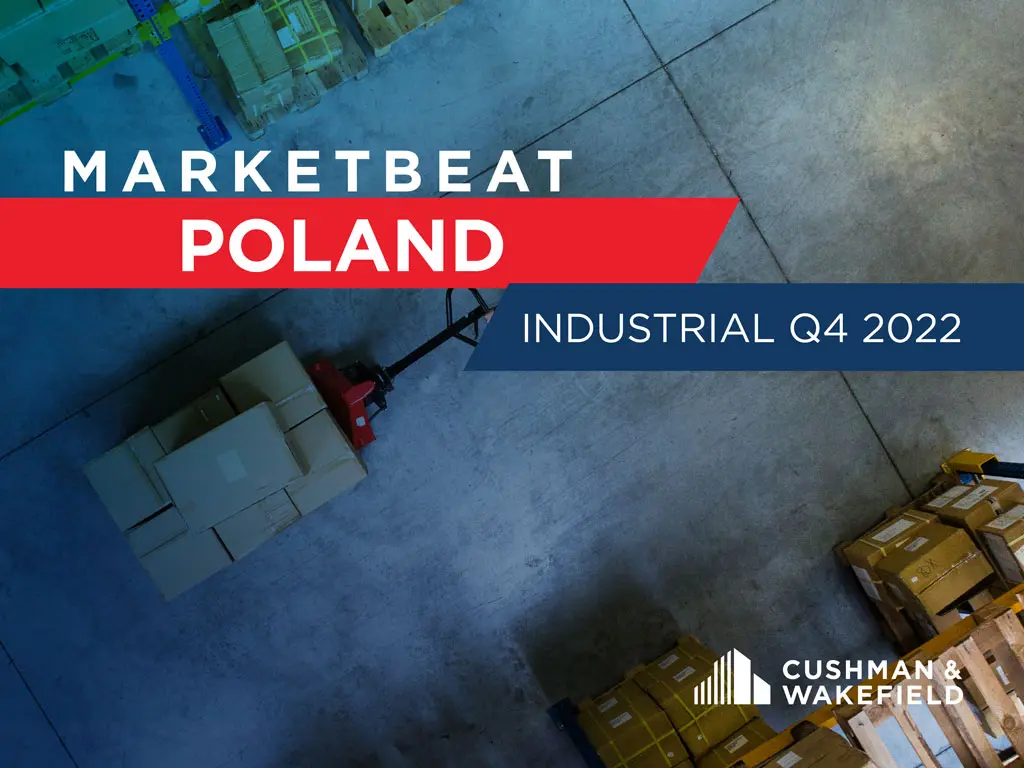 Take-up hits its second-highest on record as new supply sets an all-time high – that's the story of the Polish industrial market in 2022 in a nutshell.
Take-up at second-highest level
Total take-up for 2022 was 6.7 million sq m (-10% y-o-y), the second strongest on record for the Polish warehouse market. Net take-up, which includes only new leases and expansions, fell to 4.5 million sq m - down by 22% y-o-y. The remaining 33% of the total leasing volume came from renewals (30%, +6 pp y-o-y) and single sale & leaseback transactions (3%).
Without a doubt, in 2022, many companies navigated a challenging and volatile macroeconomic environment. Investment processes became longer and some were put on hold until market conditions stabilize. Despite this, many companies continue to develop modern warehouse infrastructure throughout Poland, - says Damian Kołata, Partner, Head of Industrial & Logistics Agency Poland, Head of E-Commerce CEE, Cushman & Wakefield.
These include logistics operators, e-commerce and courier firms (Shein, Hermes Group, BestSecret, Poczta Polska, and InPost), retailers (Lidl, Dealz, Jeronimo Martins, and Stokrotka) and manufacturers (Flex, Robert Bosch GmbH, TRUMPF Huettinger, and Saint Gobain Sekurit).
Despite geopolitical and economic challenges, the outlook for 2023 remains positive. In the long term, the growth of the Polish industrial sector is expected to be driven by such factors as nearshoring or last-mile logistics. The continued expansion of e-commerce will also play a key role. According to data from Cushman & Wakefield, almost a third of Poland's total warehouse stock is dedicated to online fulfilment, with the highest levels of saturation reported in Lower Silesia, Łódzkie and Silesia, - adds Damian Kołata.
Supply hits an all-time high in 2022 amid a slowdown in development activity
820,000 sq m of warehouse space was delivered in Q4 2022 across 27 projects, bringing last year's total completions to 4.4 million sq m – this represents a year-on-year increase of 40% and the best result in the history of the Polish industrial market. As a result, Poland's total industrial stock surpassed 28.3 million sq m.
Despite the highest ever level of new supply, Poland did not see any significant improvement in warehouse availability; its overall vacancy rate stood at 4.1% at year-end 2022, up by just 0.4 pp - says Adrian Semaan, Senior Research Consultant, Industrial & Logistics Agency, Cushman & Wakefield.
Most regional markets are experiencing a shortage of warehouse space, with the lowest vacancy rates reported for Pomerania (0.9%, -1.6 pp y-o-y) and Lesser Poland (1.2%, +1.1 pp y-o-y). Healthy supply levels in 2022, however, improved warehouse availability in Łódzkie (5.5%, +2.6 pp y-o-y), Western Pomerania (6.4%, +5.5 pp y-o-y), Lower Silesia (7.0%, +4.2 pp y-o-y) and Lubelskie (9.1%, +3.1 pp y-o-y).
At the end of last year, around 3.4 million sq m of warehouse space was under construction, of which close to 1.6 million sq m was available for lease. Speculative construction is expected to help meet the demand reported by companies planning to launch new operations in the next three to nine months. However, warehouse availability is likely to shrink considerably by the end of the year as a result of weakening construction activity, - adds Adrian Semaan.
In Q4 2022, developers started construction of around 300,000 sq m, marking a decrease of over 80% on the same time in 2021. The decline in new construction was due to two key factors. One was the temporary, significant change in general construction costs in 2022 which have, however, recently become more predictable. And the other was that developers had to adjust their expectations to the new requirements of financing entities, including banks and investment funds, in particular as regards required rental rates and return levels.
This year, Poland will catch up with the UK, Germany, France and the Netherlands - the four largest industrial markets in Europe, each of which has warehouse stock in excess of 30 million sq m. However, in terms of warehouse space saturation rates, Poland still lags behind such countries as the Czech Republic, which has 11 million sq m per close to 11 million inhabitants. Poland's development pipeline potential for the next five to ten years is estimated at over ten million square metres, - concludes Damian Kołata.
Rents: Poland also sees significant rental growth
Warehouse rents rose on many European markets in 2022, with rental growth driven by a number of factors, including high inflation, interest rate hikes, elevated construction costs, low warehouse space availability and rising development financing costs. The growth of rents was particularly pronounced on the Polish industrial market, which had, for many years, enjoyed relatively stable and significantly lower rental rates compared to other European countries.
Headline rents in big-box projects increased by 20-30% over the last year to EUR 3.70-5.00/sq m/month, depending on the location. Rents for SBU/City Logistics projects are higher, standing at EUR 5.00-7.50/sq m/month. With financial incentives offered to tenants scaled down, effective rents are lower than headline rental rates by a maximum of 15-20%.
Was this article helpful?
Download now!