Marketbeat: Another 20 million sq m of warehouse space is scheduled for completion in the next few years while the death of e-commerce has been overstated
29 august 2022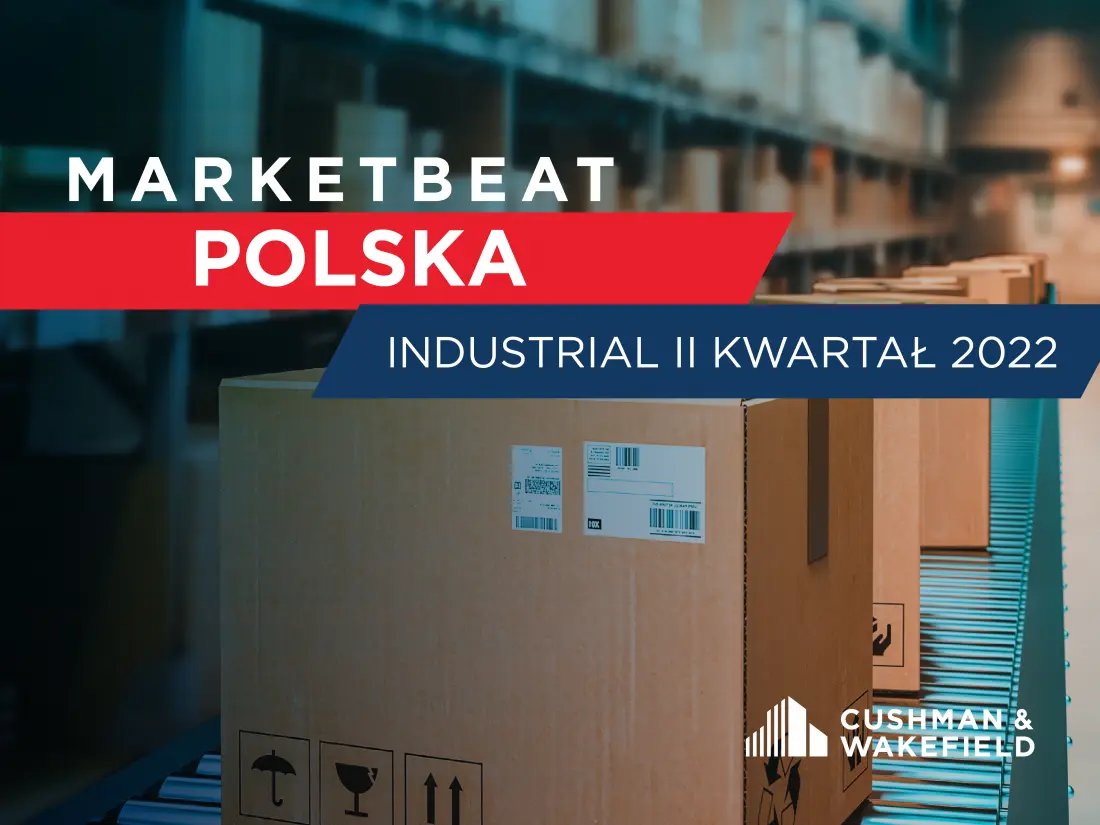 Total warehouse take-up in the first half of the year hit 3.8 million sq m, of which 2.2 million sq m was leased in the second quarter.
We were waiting for a summary of data for the first six months with a degree of uncertainty, but it paints a positive picture. The Polish industrial market continues to power ahead, with 1.15 million sq m of warehouse space delivered in the second quarter alone. Another 4.35 million sq m is underway. Speculative construction accounts for 48% of the total development pipeline, equating to 2.1 million sq m, up by 0.9 million sq m from a year ago. The overall vacancy rate currently stands at 3.3%, which represents a decrease of close to 2 pp on the same time last year – says Damian Kołata, Partner, Head of Industrial & Logistics Agency Poland, Head of E-Commerce CEE, Cushman & Wakefield.



Leasing activity hits a record high in H1 2022
ut more importantly, total demand in the first half of the year reached 3.8 million sq m, of which over 2 million sq m was leased in the second quarter. This means that the result for the first six months increased 12% year-on-year and 70% compared to the first half of 2020. Net take-up recorded a similar scale of growth, accounting for 73% of the total take-up. High demand for warehouse space is being generated by the logistics, distribution and retail industries. We are also witnessing an increase in activity from manufacturing companies, driven by the need to secure supplies including parts and components used in the automotive industry. Also evident is continued growth in the e-commerce and courier industry, as demonstrated by many large transactions in excess of 50,000 sq m in the first half of 2022. Although the share of e-commerce in total retail sales has fallen in Poland, with online retailing being seasonal in nature, online spend in July increased again compared to previous years. This year's online penetration rate stands at 8.4%, compared to last year's 7.4% and only 6.5% in the pandemic July 2020, which witnessed an e-commerce boom. While GUS data is usually largely understated, PwC estimates that online sales account for 13% of total retail spend. In addition, from the point of view of industrial properties, e-commerce should be looked at from a broader perspective, because Poland has for long been a major European hub and - with the above investments - it continues to cement its position – adds Damian Kołata.
Warehouse availability in Poland has shrunk by over a third in the last 12 months
Nearly 1.15 million sq m was completed in Q2 2022. Of that total, about 250,000 sq m was available for lease as of June 2022. The overall vacancy rate remained at a record low of 3.3%, equating to 867,000 sq m, down by 38% year-on-year. A clear decrease in availability was recorded in the Silesia region (by around 86,000 sq m) while an increase was observed in the Łódź market (by 77,000 sq m) and the Western Pomeranian market (by 67,000 sq m).
Despite the low vacancy rate, we are witnessing a gradual reduction in new development projects breaking ground, especially in speculative construction. This is due to market uncertainty, high construction costs and a considerable volume of warehouse space underway without pre-lets. Projects commenced in the second quarter comprise approximately 800,000 sq m, down by 46% compared to the average for the previous four quarters, i.e. from Q2 2021 to Q1 2022. This may indicate a temporary slowdown in development activity, but if it continues for longer, some regional warehouse markets are likely to remain undersupplied throughout 2023.
Rents remain under upward pressure 
Low vacancy rates and rising development costs fuelled strong rental growth in the first half of 2022. The largest year-on-year increases of up to EUR 1.00 were recorded in the Krakow and Tricity markets, which experienced low vacancies and an imbalance between demand and planned supply. 
At the end of June 2022, headline rents overall stood at EUR 3.40–4.80/sq m/month for big-box warehouses and at EUR 5.00–5.75/sq m/month for City Logistics/Small Business Units. Financial incentives offered to tenants are being scaled down in the current market environment, pushing effective rents up. Effective rental rates range between EUR 2.80–4.50/sq m/month for big-box units and EUR 4.50–4.80/sq m/month for City Logistics/SBUs - depending on location. 
Investor demand for logistics projects remains very strong
The first half of this year closed with a volume of EUR 700 million in logistics transactions, above the average of the past four years.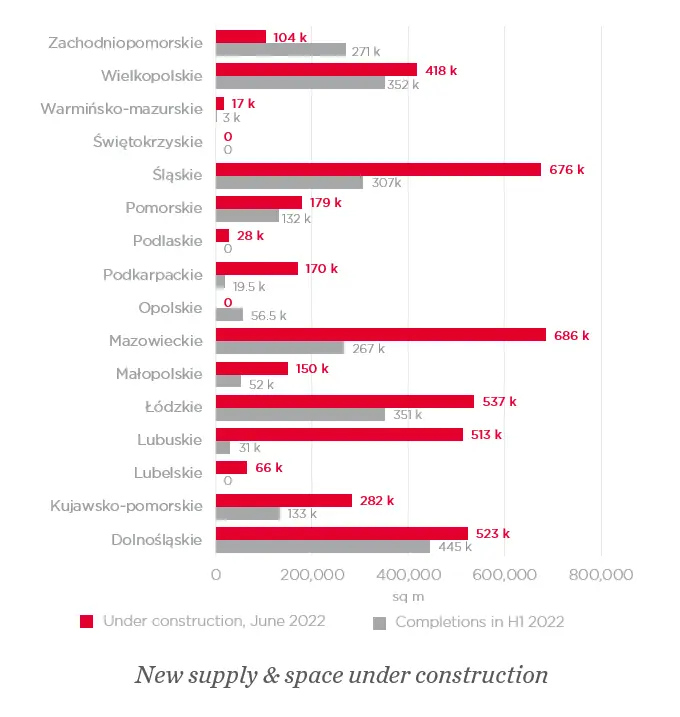 Rising financing costs fuelled by interest rates hikes across Europe are translating into real estate values but are not affecting the appeal of logistics. Investor activity bounced back following the uncertainty in the March-June period caused by the war in Ukraine, further driven by strong warehouse rental growth – comments Paweł Partyka, Partner, Capital Markets, Cushman & Wakefield.
JWhat's next for the industrial market in Poland?
The long-term outlook for the sector remains positive. In the light of disrupted supply chains and high inflation, companies from many sectors will seek to improve logistics processes including relocation and optimization of supply chains and shifting operations to new locations. These processes will be facilitated by further improvements to transport infrastructure and the growing supply of modern class A industrial space built in line with sustainable construction standards. According to a report from the Polish Green Building Council (PLGBC), the share of certified warehouse space in total stock rose from last year's 28% to 41% as of the first quarter of 2022. It is also worth noting that developers are actively securing new development sites, both for big-box, BTS and urban logistics projects, signalling strong confidence in the long-term and diversified growth of the Polish industrial market. Data on land banks indicates a total development potential exceeding 20 million sq m that is likely to be delivered in the next few years – concludes Damian Kołata.
Macroeconomic indicators are also found to play a role in the industrial market. Poland is facing a decline in economic activity due to the shock to energy and commodity prices caused by Russia's invasion of Ukraine. Elevated inflation is expected to continue at least until 2023 and Poland's GDP growth will weaken but will not lead to another recession. Although Poland is not as export reliant as other Eastern European countries, supply chain issues are likely to slow down export growth. 
According to Poland Statistics (GUS), Poland's unemployment rate in June was 4.9%, compared to 5.1% in May. Based on the Polish Association of Construction Employers estimates, some 90,000-100,000 workers, or 20-30 percent of employed Ukrainians, left the Polish construction sector after the outbreak of war in Ukraine.
Was this article helpful?
Download now!