Marketbeat: Warehouse completions hit an all-time high of 1.27 million sq m in Q1 2022
30 may 2022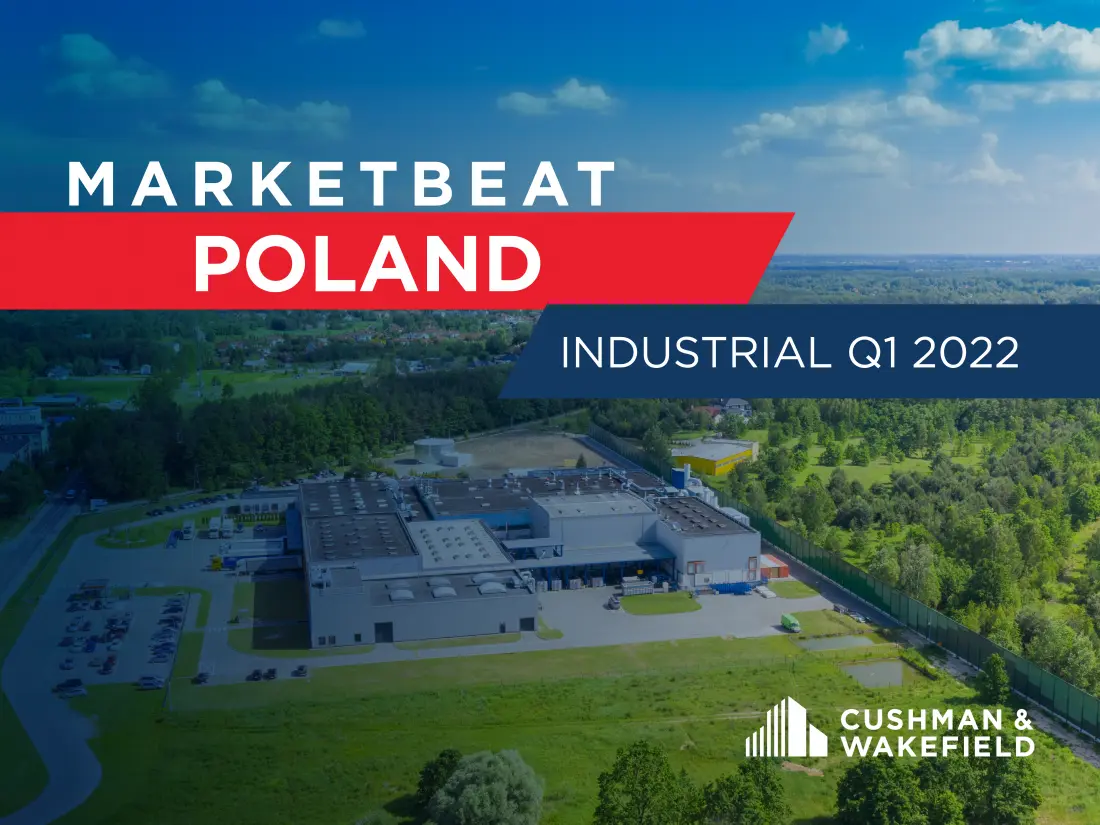 According to its data, total warehouse take-up in the first three months of this year reached 1.56 million sq m while the development pipeline hit a record 4.8 million sq m. What are the report's other findings?
In January-March 2022, Poland's economy expanded by over 8% year-on-year, reveals the National Bank of Poland. Both the pandemic and the war in Ukraine have caused market imbalances and disrupted global supply chains. Global economies, including Poland, are currently struggling with shortages of raw materials and manufacturing components, as well as high inflation, which is likely to result in an economic slowdown.
Poland's inflation rate continued its upward trend, climbing to 12.4% in April 2022. The average annual price growth is expected to remain in double figures for the whole of 2022 and to reach 10.9%. According to data from Poland Statistics (GUS), Poland's industrial production rose by 16.7% compared to 7.8% in Q1 2021. Year-on-year growth was recorded in March 2022 for all the core categories, with the highest at 57.3% reported for production of goods related to energy.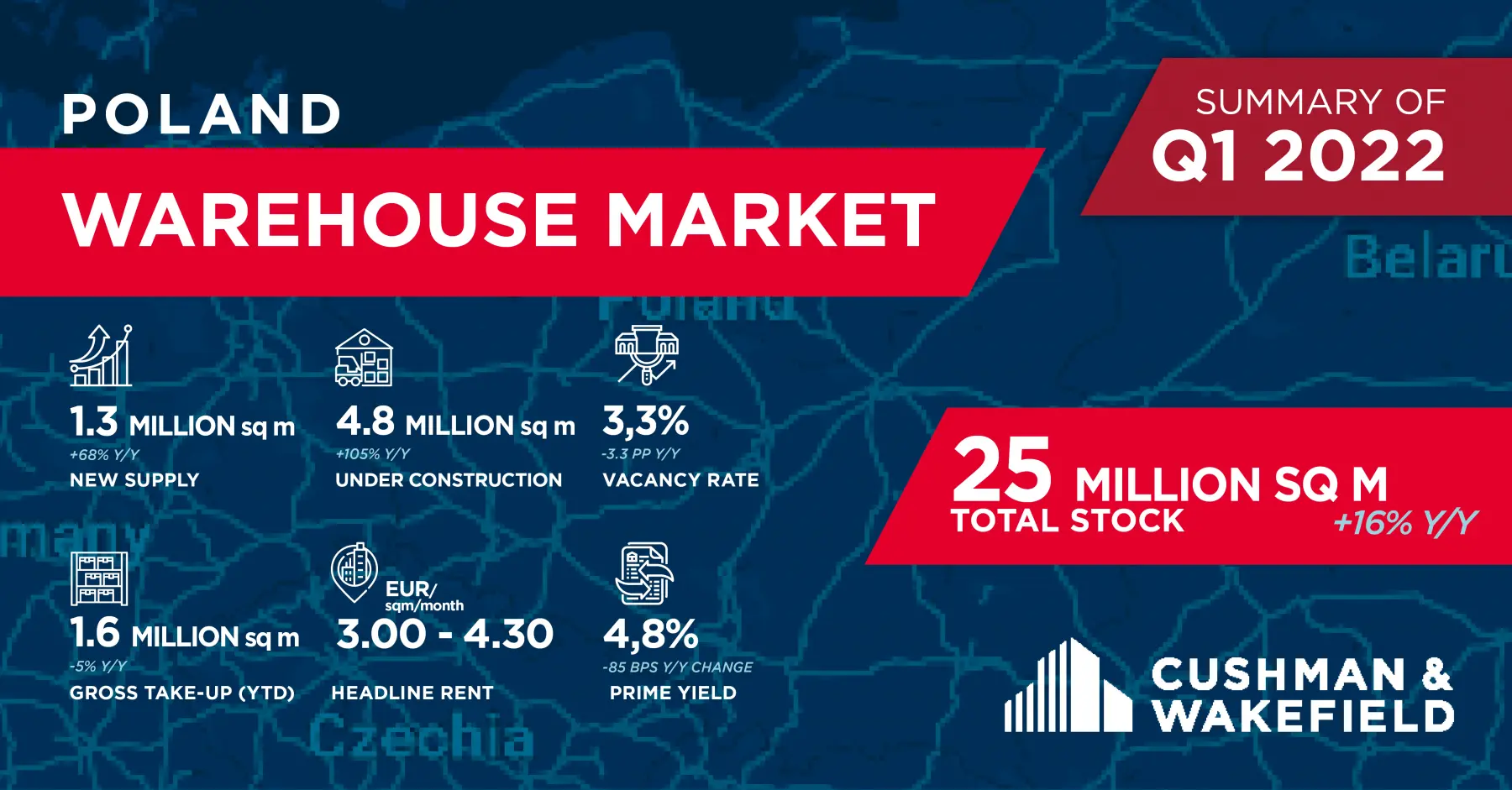 Q1 take-up up over 50% compared to the first quarter average for 2018-2020
In January-March 2022, total warehouse take-up in Poland reached 1.56 million sq m, down by 5% on the same period last year but up by over 50% on the first quarter average for 2018-2020.
Take-up by transaction type remained largely unchanged – new leases and expansions continued to dominate, accounting for 74% of the total leasing volume, while renewals made up the remaining 26%.
When Poland hosted the European Football Championship in 2012, its total industrial stock stood at just over 7 million sq m. The next five years saw the addition of 11.5 million sq m, representing a 60% increase, with the Polish market now containing more than 25 million sq m. These figures indicate the strong momentum of the Polish logistics and industrial market, which is showing no sign of abating. Occupier demand remains healthy, driven by companies from various sectors, including logistics, distribution, parcel delivery, retail and manufacturing, but it is largely being fuelled by the evolution of global supply chains and the need to continuously adapt them to the rapidly expanding e-commerce sector and the rise of omnichannel. Active market players include both companies with many years of presence in Poland and newcomers appreciating Poland's excellent geographical position in the centre of Europe, strong labour pool, well-developed transport infrastructure and lower business operating costs compared to many other European countries. Another key factor is the high availability of development land across the country. In 2023, Poland is expected to see numerous new logistics projects come on stream and its total warehouse stock is on track to surpass the 30 million sq m mark - says Damian Kołata, Partner, Head of Industrial & Logistics Agency Poland, Head of E-Commerce CEE, Cushman & Wakefield.
Demand outstrips supply
A record-breaking 1.27 million sq m of warehouse space was delivered across 45 projects in the first quarter of 2022, while total supply in the past 12 months amounted to 3.6 million sq m, representing an uplift of 57% year-on-year. The meteoric demand, however, outstripped the growing supply as the overall vacancy rate edged down by another 0.5 pp quarter-on-quarter and 3.3 pp year-on-year, falling to 3.3% at the end of March 2022, its lowest since records began. Net absorption hit an all-time high of 1.41 million sq m in Q1 2022, up by 85% year-on-year. The largest downward year-on-year movements in vacancy rates were in Pomerania (1.6%; -5.0 pp), Greater Poland (0.5%; -4.5 pp), Łódzkie (2.5%; -3.8 pp), Lower Silesia (3.2%; -3.5 pp), Silesia (5.7%; -3.6 pp), Lesser Poland (0.5%; -3.1 pp) and Mazovia (4.8%; -2.7 pp).
In Q1 2022, developers commenced the construction of close to 1.5 million sq m of warehouse space, bringing the total development pipeline to 4.8 million sq m. Of that total, approximately 50% was pre-let. If all pending projects come to fruition within the scheduled timeframe, the total warehouse stock, currently standing at over 25 million sq m, will increase by more than 20% over the next 12 months.
Robust demand for warehouse and industrial space in Poland is largely being driven by the need to diversify logistics chains covering both key conurbations and smaller regional markets as well as borderland areas, and to maintain seamless and cost-effective distribution in response to the strong momentum experienced by e-commerce and manufacturing. These trends are expected to carry into the months ahead but occupier activity is rather unlikely to match last year's record-breaking figure of 7.5 million sq m due to the complicated and uncertain macroeconomic and geopolitical environment, high inflation and the very low availability of warehouse space - comments Adrian Semaan, Senior Research Consultant, Industrial & Logistics Agency, Cushman & Wakefield.
Rents under upward pressure
Both rising construction costs and the shrinking warehouse availability pushed rental rates up on most regional markets across Poland. The strongest year-on-year growth in prime headline warehouse rents of 16% was reported in Krakow and Tricity. At the end of March 2022, headline rents overall ranged between EUR 3.00–4.30/sq m/month for big-box warehouses and EUR 4.30–5.50/sq m/month for City Logistics/Small Business Units, depending on location.
Financial incentives offered to tenants are being scaled down in the current market environment, pushing effective rents up. Effective rental rates range between EUR 2.40–3.50/sq m/month for big-box warehouses and EUR 3.60–4.80/sq m/month for City Logistics/SBUs, depending on location. The strong inflationary pressure is likely to lead to another upward correction in rents in the coming months.
Was this article helpful?
Download now!