Storage facilities in Central Europe are experiencing a boom
01 march 2018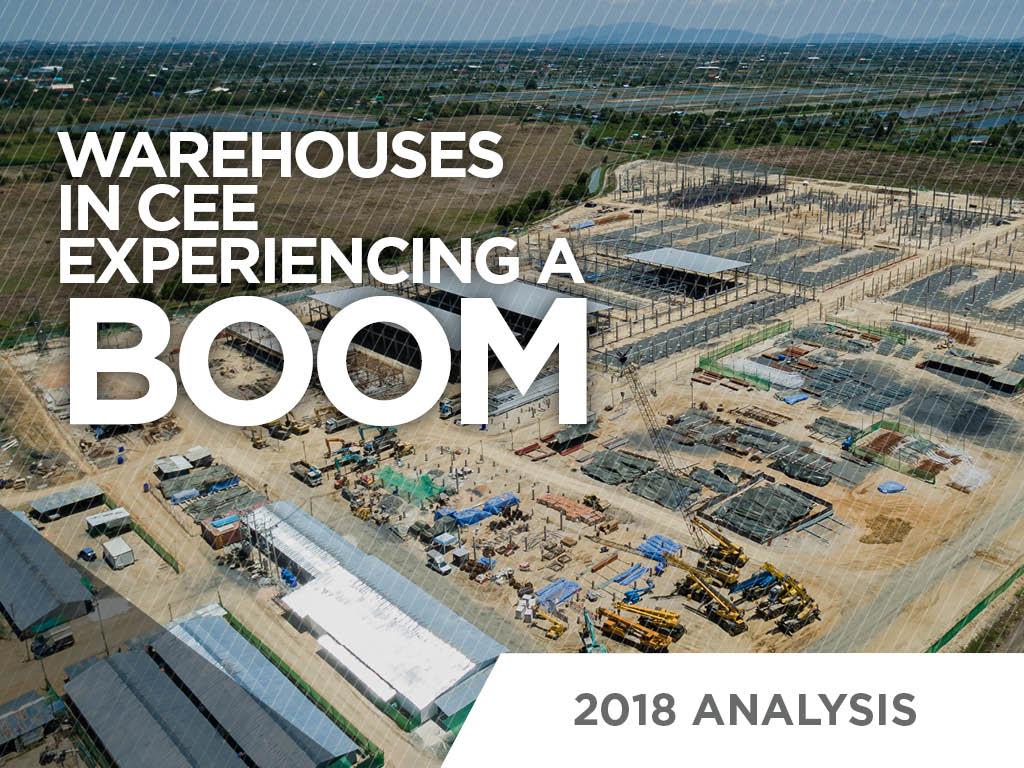 The year 2017 saw the greatest amount of industrial space built in Europe in its history – more than 3.7 million sq m. This represents a 68% increase over 2016 and a 55% increase over the existing record dating back to 2007 (an additional 1.2 million sq m). The total industrial space in the region has increased by 17% as a result. Such are the results of a survey conducted by Cushman & Wakefield, a company that has been monitoring the industrial property market in the Czech Republic, Slovakia, Poland, Hungary and Romania on a long-term basis.
The average occupancy rate reached a record-breaking 95.1%. In effect, take-up is greater than ever and new additions have no problem finding their occupiers before or during development. The greatest amount of industrial space in history was leased in Europe in 2017 – 6.7 million sq m, one million more than last year.
Although the development in the region is unprecedented and the Central European region's steep growth rate is approaching its maximum, we are not afraid of a major reversal. The record values are nearing or have even exceeded the pre-crisis figures in many respects while one principal indicator has been decreasing – and that is the vacancy rate. Offer meets demand and in this respect the current market is much sounder even though it may appear overheated - says Ferdinand Hlobil, Partner and the Head of the CEE Industrial Team.
Leasing
Of the total 6.7 million sq m of leased space, more than 4 million sq m comes from Poland, by far the most active country in terms of transactions. This also represents Poland's record. 1.3 million sq m, approximately 70 000 sq m less than in 2016, was leased in the Czech Republic. From the long-term perspective, this is a high figure that has been steadily reoccurring with minor differences since 2013. Both Hungary and Romania have seen their respective records in terms of sq m of leased space. 617 625 sq m was leased in Hungary, almost 200 000 sq m more than in 2016. 283 529 sq m was leased in Slovakia.
Total warehouse stock in Poland increased by 20%. For the fifth consecutive year demand for logistic space reached a record level, with last year's transaction volume exceeding 4 million sq m. Healthy GDP growth of 3.8% as well as further infrastructure investments and the global trend of e-commerce expansion are expected to be the key factors underpinning further warehouse market growth in 2018. New projects will appear not only in the key markets such as Warsaw, Upper Silesia or Central Poland but also in the middle size cities with greater labour market availability - said Joanna Sinkiewicz, Partner and the Head of the Industrial Team in Poland
Vacancy rate
The vacancy rate has decreased to a historic low at 4.9% despite the record-breaking development. This reflects the good condition of Central European economies. The lower this ratio is, the better the condition of the economies of the countries concerned/
New development
Poland was a clear leader in terms of new development. Its share at 2.3 million sq m accounted for a full 63% of the newly built 3.7 million sq m. 662 000 sq m of new industrial space was built in the Czech Republic – the second best result in Central Europe and the second best result in Czech history. This was 162 000 sq m more than in 2016. Surprisingly, Romania followed closely with almost half a million [sq m] of newly built industrial space. This is a clear record, outperforming the 2016 record figure by about 100 000 sq m. Hungary and Slovakia added roughly similar amounts of space, 120 000 sq m of new industrial space.
Poland has become the clear winner in terms of taking advantage of the post-crisis economic boom. After them, the Czech Republic and Romania have benefitted the most. Hungary and Slovakia did not take full advantage of the opportunities of the beginning of the last decade, however in the past two years the two countries have begun to accelerate their growth - says Ferdinand Hlobil.
Investment
The investments in industrial properties amounted to EUR 2.2 billion in 2017, 19% of the total amount of investment in commercial properties in Central and Eastern Europe.
Outlook
Cushman & Wakefield expects a strong year 2018, both in terms of new construction and continuously strong demand. Central and Eastern Europe still benefits from low wage costs and an excellent location in Europe. Changes in the retail structure - the further expansion of e-commerce - will also support the further growth in demand for industrial real estate. Developers are therefore expected to further build in large volumes.
Despite the very successful period of the last years, Central Europe (including Romania) did not catch up with Germany in terms of overall metres square of modern industrial space. However with regard to the very low vacancy rates and strong tenant demand, the big potential of further growth in the whole region is evident - says Ferdinand Hlobil.
Was this article helpful?