Marketbeat: Poland Warehouse Market - Q1 2020 [REPORT]
08 may 2020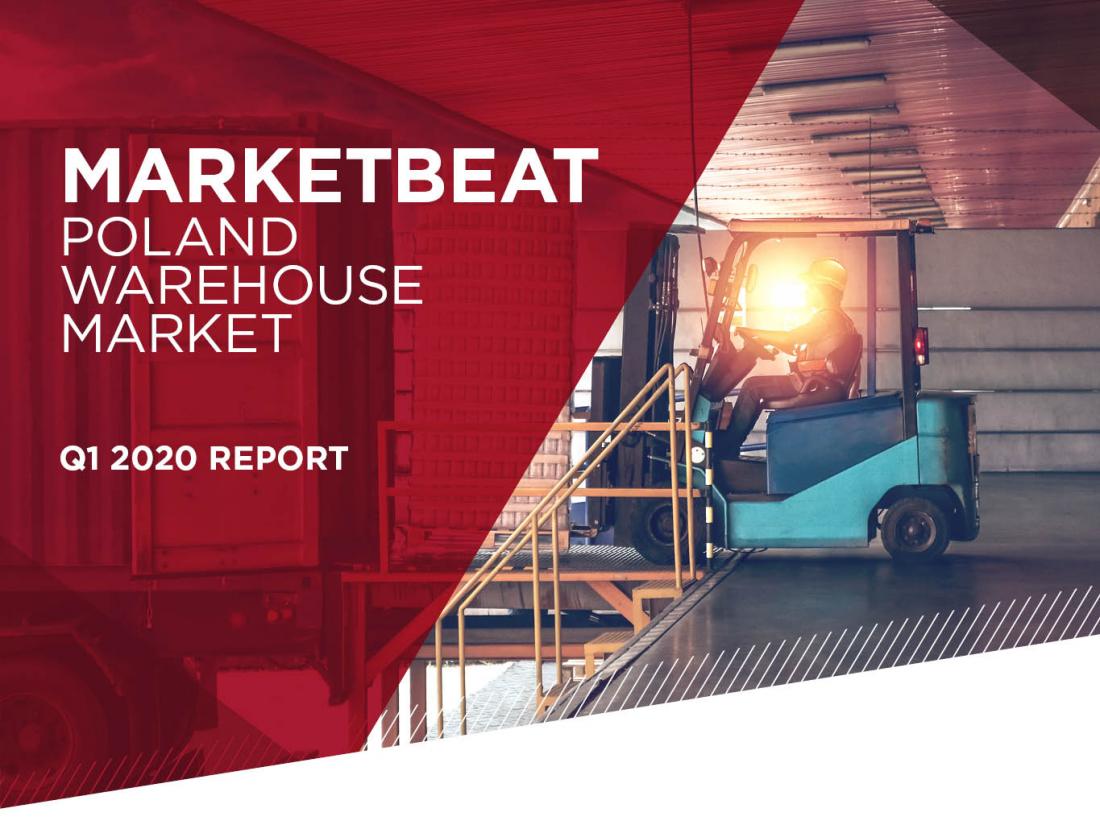 The first quarter of 2020 ended on the industrial market with good results on both the demand and supply side. Poland's total warehouse stock surpassed the 19 million sq m mark
The total leasing transaction volume hit 956,000 sq m, the second-highest take-up in the first three months of a year in the history of the Polish market.
New leases and expansions accounted for 82% of the total take-up, confirming that the market remains in very good health.
In Q1 2020, new warehouse projects delivered a total of 428,000 sq m to the market, of which more than 40% was completed in the Wrocław region.
Development activity remains very robust with close to 2.2 million sq m of warehouse space currently under construction.
There are new projects underway across all 13 regional markets. More than 50% of the development pipeline will be delivered to Poland's two largest markets: Warsaw and its suburbs, and Upper Silesia.
At the end of March 2020, there was approximately 1.4 million sq m of vacant warehouse space, accounting for 7.4% of Poland's total industrial stock.
Warehouse rents held firm on most regional markets.
Take-up
Leasing activity remained robust in Q1 2020 as the total transaction volume reached almost 960,000 sq m, the second-highest result in the first three months of a year in the history of the Polish market. Net take-up comprising new leases and expansions hit nearly 790,000 sq m, accounting for 82% of all deals. This is an outstanding result indicating that the market is in good health. In recent years, net take-up accounted for approximately 65-70% of gross take-up while re-gearing made up about 30-35%.
In the first quarter of 2020, lease renewals accounted for only 18% of gross take-up, a clear indication of occupier demand for new or additional space required for organic business growth. Historically, the share of renegotiations in total take-up always increased in more challenging times on the market – says Joanna Sinkiewicz, Partner, Head of Industrial & Logistics, Cushman & Wakefield.
Core locations remained in strong demand as 85% of all deals were transacted on Poland's five key warehouse markets. The strongest leasing activity was recorded in Warsaw (236,000 sq m) and Upper Silesia (199,000 sq m). Central Poland, Wrocław and Poznań saw leasing volumes at between 120,000 sq m and 130,000 sq m.
Rents changes in the warehouse market
Given the current dynamics of change, rental levels and changes are a concern for the industrial market. Rental rates are impacted by many market metrics and their evolution, including occupier demand, overseas investment funds' interest in industrial assets, costs of bank financing, construction costs, competition among developers, and the availability and costs of development lands.
Outlook
The present situation is very challenging for everyone, both tenants and landlords. However, most are seeing the current reality as a challenge and trying to adapt to the new situation. The industrial market is therefore doing relatively well compared to other commercial real estate sectors. Having said that, the overall picture is rather complex. Tenants from some sectors are struggling with enormous business difficulties and making efforts to stay afloat.
Problems besetting the rapidly growing automotive industry in Poland include reduced demand, the suspension or significant limitation of manufacturing processes, with investment decisions being postponed. Some tenants are reporting moderate falls or replacing less profitable business activities with those that will perform better in the current situation. Some companies are growing and developing at a much faster pace than ever before, largely powered by the accelerated growth in online retail sales. The momentum of action and change is strong - says Joanna Sinkiewicz.
Was this article helpful?
Download now!