Marketbeat: Warehouse market in Poland - 2019 summary [TEASER]
31 january 2020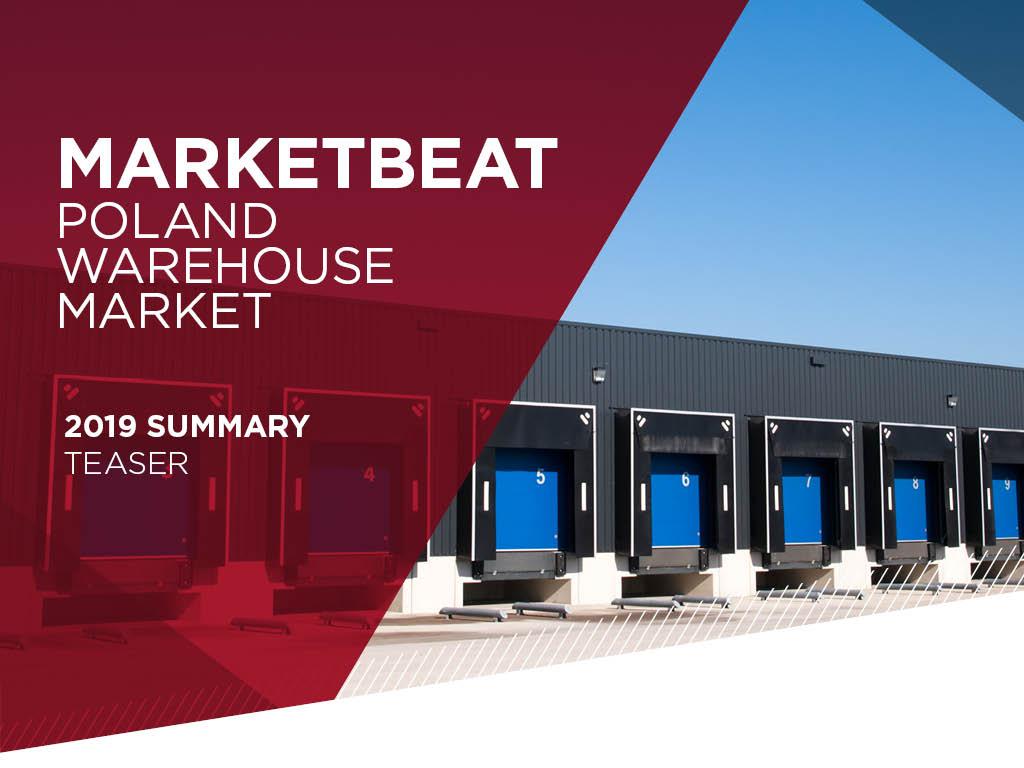 The year 2019 ended with a record increase in modern warehouse space in Poland. The total demand for the third year in a row reached 4 million sq m.
E-commerce remains the growth engine for the Polish industrial market
Development activity continues unabated across the whole country
Warehouse availability improving amid stable rental rates on most regional markets
Tenants enjoy the upper hand in negotiations on some markets experiencing a temporary oversupply
AAutomation and sustainable construction will make further inroads into the industrial market in 2020
At the end of 2019, Poland's total industrial stock topped 18.6 million sq m, with warehouse supply hitting a record high of 2.72 million sq m in the past 12 months. Compared to the previous year, warehouse space availability improved significantly on most of the nation's regional markets.
he Polish industrial market continues its strong momentum. Warehouse supply has been setting new highs, driven by both healthy demand for modern warehouse space (especially in 2018), the abundance of capital and the confidence of investors looking for prime industrial assets in our country – says Joanna Sinkiewicz, Partner, Head of the Industrial and Logistics Agency, Cushman & Wakefield Poland.
Unlike the previous year, 2019 witnessed a surge in unoccupied warehouse space on most of Poland's regional markets. The highest vacancy rates were reported in Central Poland (408,000 sq m), Upper Silesia (249,000 sq m), Warsaw suburbs (203,000 sq m) and Poznań (202,000 sq m). The temporary oversupply in Poznań, Upper Silesia and Central Poland was due to more speculative space coming through in 2019 than in previous years and the relocations of several large tenants to new developments on those markets.
Following the subdued occupier activity in H1 2019, leasing activity gathered pace in H2 2019, helping to boost total warehouse take-up levels to approximately 4 million sq m for the third year in a row. Last year, however, saw a structural change in occupier demand, with renegotiations accounting for 32% of the leasing volume, up from 25% in 2018. Net take-up comprising new leases and expansions hit 2.7 million sq m, down by approximately 8% on 2018's level and by 13% on the record high of more than 3.1 million sq m posted two years ago.
Healthy supply and robust demand levels have kept warehouse rents stable.
Industrial rents remained largely unchanged on most regional markets in 2019, edging up by around EUR 0.10/sq m/month in a few prime locations on the borderland between Warsaw inner city and the suburbs. "These areas are beginning to experience a limited supply of larger development lands, with developers' interest shifting towards smaller two- or three-hectare plots (for SBU or BTS projects), pushing land unit prices and headline rents up. In 2020, base rents for big-box warehouses are expected to hold firm at EUR 2.50–3.80/sq m/month, with effective rents that currently stand at EUR 2.00–3.20/sq m/month likely to fall, depending on project location – says Joanna Sinkiewicz.
Development activity continues unabated as nearly 1.9 million sq m of warehouse space is currently under construction. Almost 80% of the development pipeline is in Poland's four regional markets: Upper Silesia (493,000 sq m), Warsaw (470,000 sq m), Wrocław (278,000 sq m) and Tricity (263,000 sq m).
The regional development pipeline will continue to be dominated by logistics hubs located in the regions of Warsaw, Łódź, Upper Silesia, Wrocław and Poznań. Smaller regional warehouse markets such as Tricity, Lublin and Rzeszów are also growing at a rapid pace, benefiting from improving road infrastructure and labour shortages in the core urban areas. New developer-led projects are also increasingly breaking ground in new sites on the nation's emerging markets. Zielona Góra, Opole, Białystok and Kielce saw their first class A schemes delivered in recent years, now the time has come for new locations such as Olsztyn, Legnica, Gorzów Wielkopolski and Radom – says Adrian Semaan, Research Consultant at Industrial and Logistics Agency in Cushman & Wakefield Polska.
Last year's key market trends are expected to carry into 2020. Demand for modern industrial space will continue to be driven largely by the expansion of e-commerce.
Companies from a vast range of sectors, including electronics, fashion, FMCG and automotive, are increasingly developing omnichannel retail capabilities, with a knock-on effect on warehouse differentiation and growth in demand for last mile warehouses, courier hubs and BTS big-box schemes. Looking ahead, we will see further automation of logistics operations and a growing pressure on sustainable construction in building user-friendly work environments and bringing down property operating costs, all driven by climate and labour market changes – concludes Joanna Sinkiewicz.
Check out the most important data about the warehouse market in 2019 by downloading the summary announcing the "MARKETBEAT" report!
Was this article helpful?
Download now!