Marketbeat: Poland warehouse market - H1 2019 [REPORT]
30 august 2019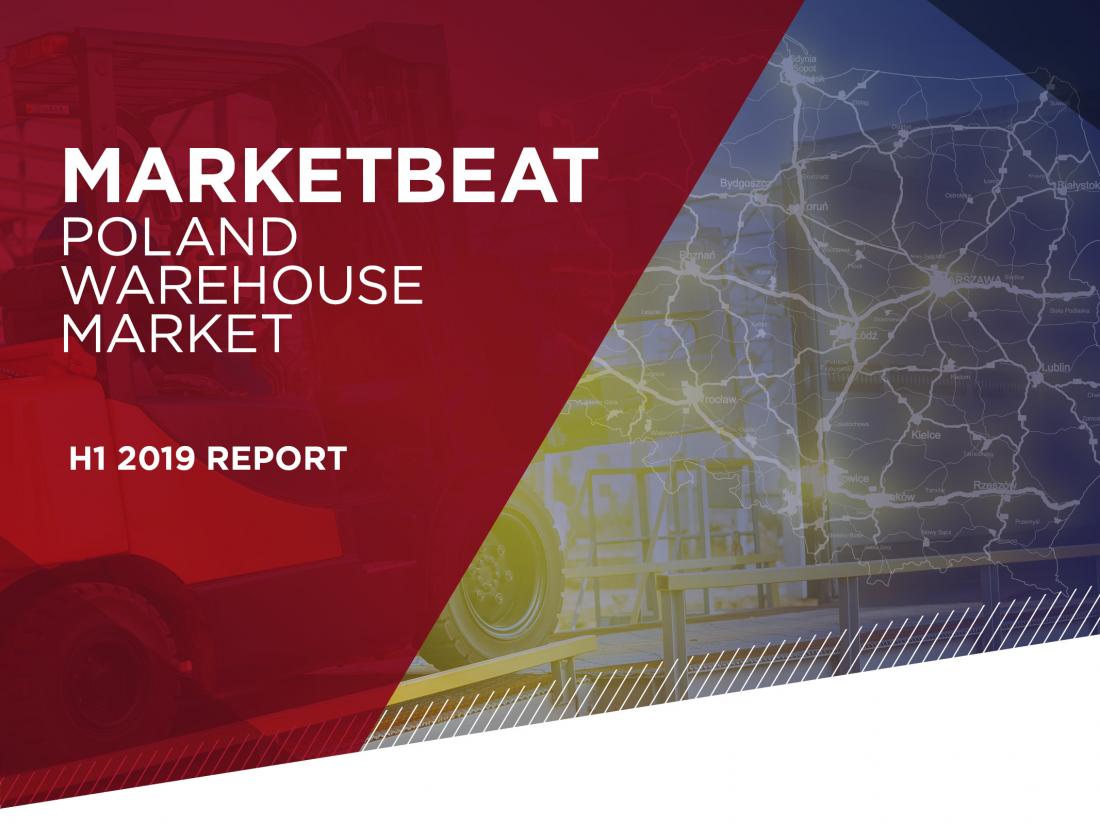 The Poland industrial market remains in very good health, with warehouse supply setting a new high in H1 2019, robust occupier activity and low

vacancy rate

s. Find out more from the MARKETBEAT report: Poland Warehouse Market!
At the end of June 2019, Poland's total industrial stock reached 16.89 million sq m, up by 18% year-on-year and up by 7% compared to the end of 2018. The industrial market has been on a strong growth trajectory for over five years, driven largely by the nation's buoyant economy, further improvements to its transport infrastructure and the expansion of e-commerce
- This growth has continued both on the core warehouse markets such as Warsaw, Upper Silesia, Central Poland, Poznań and Wrocław, accounting for 81% of Poland's total supply, and on smaller regional markets that are seeing their potential grow thanks to the development of expressways and motorways, and easier access to labour.

Brand new locations are also emerging on Poland's logistics map. These include Częstochowa, located by the A1 motorway, as well as Kielce, by the S7 expressway, and Legnica, near the S3 expressway, which are seeing development activity pick up. Other potential locations considered by developers include Gorzów Wielkopolski and Radom – said, Adrian Semaan, Consultant, Industrial and Logistics Agency, Cushman & Wakefield.
Warehouse marketin Poland
Warehouse supply set a new high in the first half of 2019, with a total of 1.09 million sq m built across 47 projects, the strongest new supply ever recorded in the first six months of a year. Nearly 70% of that total was completed on five markets: Central Poland (23%), Warsaw suburbs (14%), Tricity (11%), Wrocław (11%) and Szczecin (9%). In addition, Olsztynek saw the completion of a large-scale project Hillwood BTS Zalando Lounge (121,000 sq m). Developer activity remains very robust.
In Q2 2019, developers broke ground on projects totalling 680,000 sq m, and at the end of June 2019 there was 2.24 million sq m under construction across 70 projects. Approximately 75% of that total is underway on the following four core markets: Upper Silesia (26% of the development pipeline), Warsaw (18%), Wrocław (16%), and Central Poland (16%). Of the smaller regional markets, Eastern Poland witnessed a considerable increase in development activity, with more than 60,000 sq m of new completions in H1 2019 and another 120,000 sq m in the pipeline.
Vacancies
The ratio of vacant stock remained at a healthy rate of 5.6% at the end of June 2019, up by 1.6 pp compared with the same period in 2018. The highest vacancy rate was reported in Warsaw Inner City (13%), where most of available space is in warehouse and office schemes aged more than ten years. Vacancy rates on other markets ranged between 2% in Wrocław and 7.5% in Poznań. There was no vacant space in Szczecin and Western Poland. The limited volume of available space and healthy demand are encouraging developers to break ground on speculative projects, albeit only on Poland's five core markets. In other regions, new spaces are being built under pre-lets.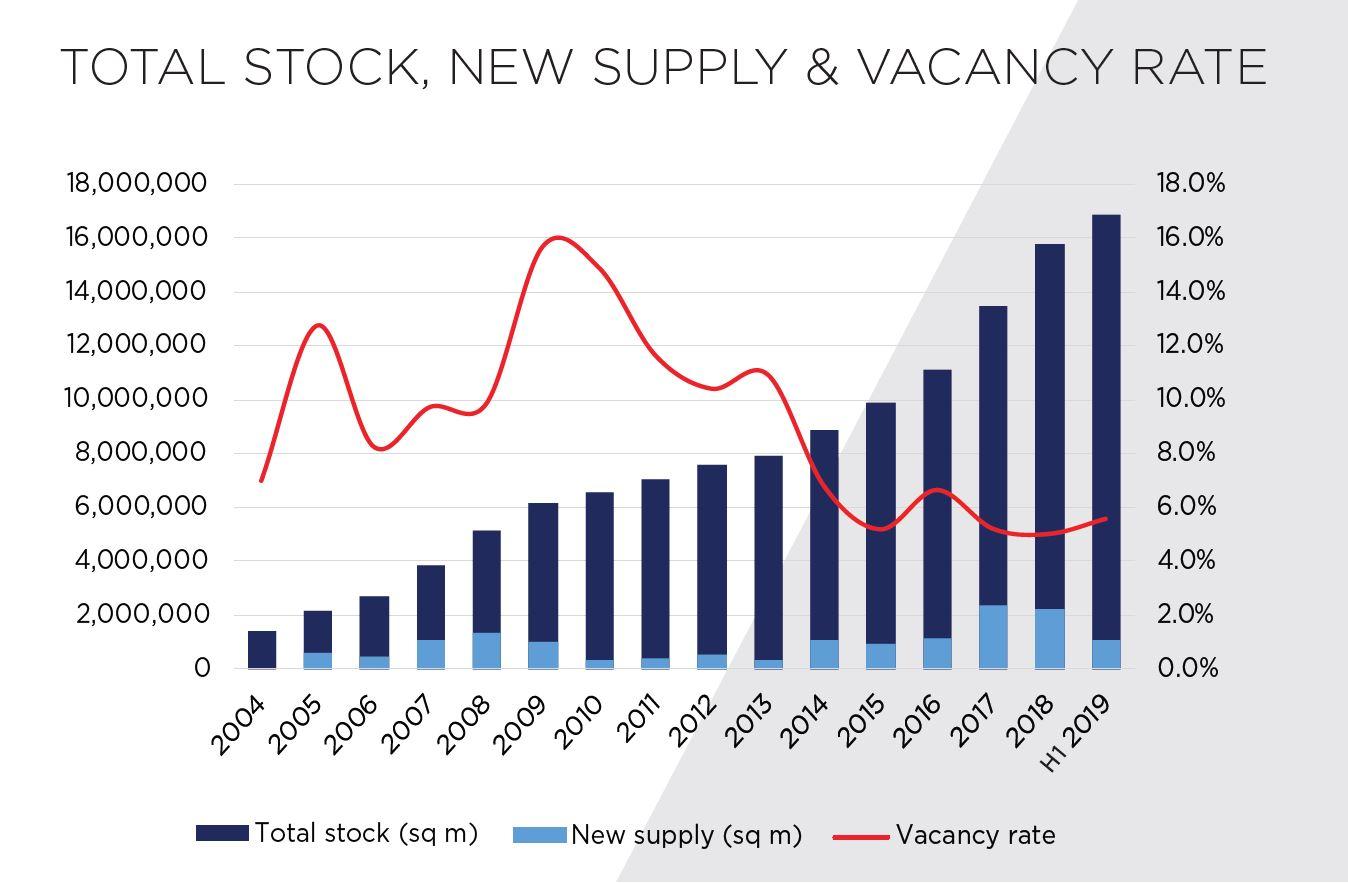 Leasing activity
Total leasing activity amounted to more than 1.8 million sq m, marking the second-highest take-up recorded in the first six months of a year but representing a 14% decrease on the same period in 2018. This was largely due to a paucity of large leases for 20,000–60,000 sq m and a dearth of BTS projects for upwards of 100,000 sq m, which were recorded a year earlier. Of all the regions, Wrocław and Warsaw suburbs are featuring prominently on the radar of tenants while Upper Silesia and Central Poland, seeing fewer large-scale BTS completions, are witnessing subdued occupier activity.
Net take-up, i.e. new leases and expansions, accounted for a total of 66% of the leasing volume, while renegotiations made up the remaining 34%. As in the previous year, demand was largely driven by logistics operators with a 36% share in the leasing volume. Other leading sectors included light manufacturing (13%), retailers (10%), FMCG (6%), automotive (6%), e-commerce (6%), food (4%) and courier services (3%).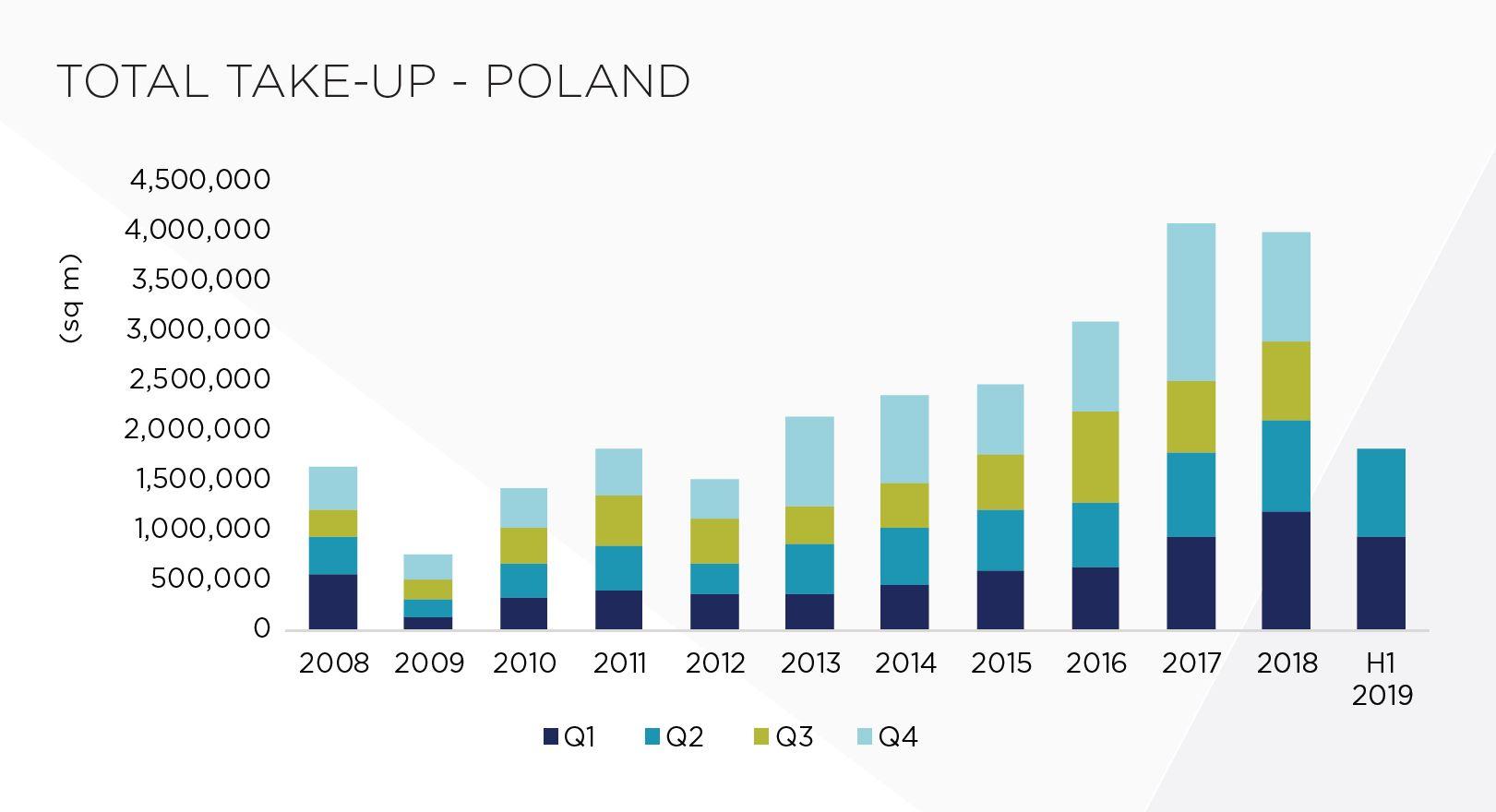 How much do you have to pay for the warehouse in Poland? Rents
Base rents stand at EUR 2.50-3.80/sq m/month across most industrial markets in Poland. Effective rents, inclusive of financial incentives offered to tenants such as rent-free periods and financial contributions, range between EUR 2.10-3.20/sq m/month, the lowest being in Poznań and Central Poland, and in some locations in Warsaw suburbs. Developers are increasing their rent expectations on most industrial markets due to rising land prices in prime locations and costs of construction services. On the other hand, tenants continue to enjoy the upper hand in negotiations on the markets with relatively high vacancy rates or strong developer competition.
- Total leasing hit more than 1.8 million sq m, marking the second-highest take-up recorded in the first six months of a year. E-commerce, automotive, home appliances and food sectors generate stable demand for new warehouse and industrial space. Strong demand is also coming from logistics and courier firms which are expanding their distribution networks to process the growing volume of shipments for e-commerce.

Supply also hit a record high with a total of 1.09 million sq m completed across 47 projects. Of all the regions, Wrocław and Warsaw suburbs are becoming focal points of occupier activity. Product diversification is accelerating with developers delivering a broad range of projects, from big-box warehouses (particularly on the largest markets) through to Small Business Units in urban areas, or special schemes such as production and cross-docking facilities. Overall, we expect the current trends to continue and, going forward, to see more busy months on the Polish industrial market – said Joanna Sinkiewicz, Partner, Head of the Industrial and Logistics Agency, Cushman & Wakefield.
Learn more about the Poland warehouse market in H1 2019 - download new MARKETBEAT report for free!
Was this article helpful?
Download now!