What is BTS (Built-To-Suit) in warehousing?
18 september 2023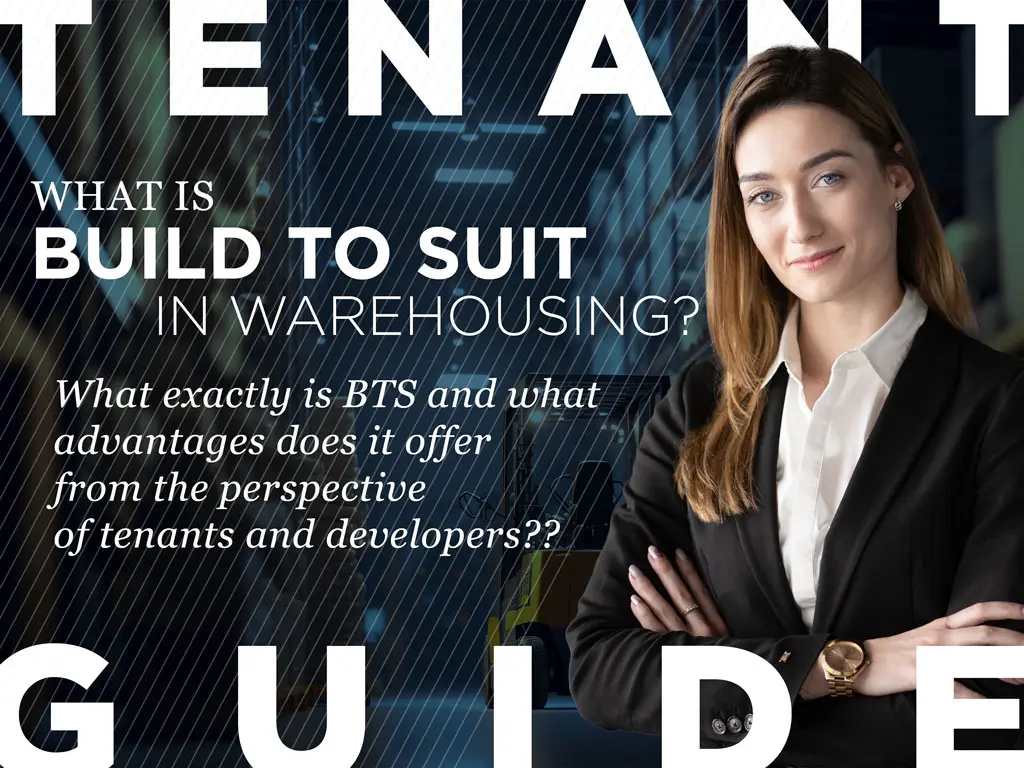 If your company has special warehousing needs, ready-to-occupy warehouses may be of no use. In such a case, a BTS (Built-To-Suit) project may be for you. But what exactly is it? What are its advantages from the point of view of tenants and developers? Read below to find out.
What is BTS?
A BTS (Built-To-Suit) warehouse project is designed and built to meet a tenant's specific needs. The tenant specifies its exact requirements and, as a result, gets exactly what it needs.
What are the advantages of Built-To-Suit projects?
Companies opting for such projects stand to benefit from some key advantages, the main one being - as the definition itself suggests - customisation to client needs. Customisation applies not only to warehouse space, but also to:
● warehouse location,
● types of warehouse units,
● space division,
● additional warehouse management technologies,
● automation of specific zones, and
● deployment of sustainable solutions in warehouses.
This means that, unlike ready-to-occupy warehouse space, there is no need to compromise.
Who opts for BTS projects most often?
Needless to say, not every company can afford a BTS warehouse. The key barrier is the cost of such a project - it may be just too high for many.
This option is therefore largely for companies that have an established market position and strong growth prospects. It is not, however, immediately available as it takes some time to plan and develop a BTS warehouse project.
BTS opportunities and challenges in warehousing
There are also some other conditions that must be met for a BTS project to be successfully delivered.
They are important from the perspective of a developer who needs to make sure that a BTS project is safe and economically viable. Key to this is the financial standing of a tenant who must have a documented track record of business operations, submit various guarantees and securities, and usually also pay a security deposit.
Another key requirement is the lease length as it is important to both parties to a BTS deal. The typical lease length is a minimum of 8-10 years as it will make a BTS project economically feasible for the developer. Time is also important to the tenant who is able to enjoy business stability over the longer run. The lease length may sometimes be shorter if a warehouse is in a prime location that is also attractive for other companies, including those with a different business profile.
If you are thinking of building a BTS warehouse, you should also be aware of the minimum size requirements for such a warehouse facility. Developers will rarely commit to Built-To-Suit projects that are smaller than 4,000 square metres due to the profitability threshold. As a result, BTS projects are clearly not suitable for companies needing a small warehouse.
Looking for a BTS warehouse? Find out now how we can help you build a BTS project on favourable and competitive conditions.
BTS projects are increasing in importance, especially among demanding companies that cannot afford to fall behind competitors. Appropriately adapted warehouse space can certainly boost growth, so a BTS project may be a viable option to consider. Please get in touch to learn more.
Was this article helpful?