Will fundamental changes to zoning regulations impact the availability and prices of development land?
04 september 2023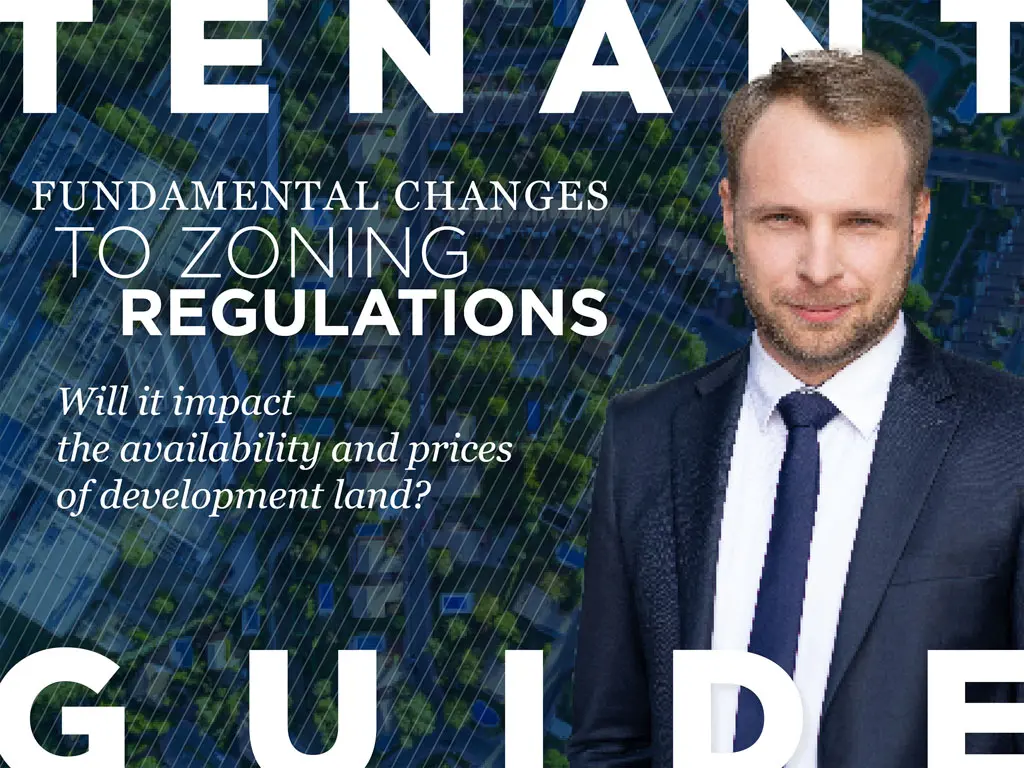 On 23 July 2023 the President of the Republic of Poland signed an amendment to the Zoning Act into law and the following day it was published in an official journal of laws. The amended law will take effect 30 days after its publication, thereby changing the regulations on local zoning plans, zoning decisions (WZ) and zoning studies that had been in force for 20 years. It is intended to streamline regulations, consolidate zoning provisions and ensure a more comprehensive approach to planning in Poland. Zoning professionals have, however, raised concerns that the amended law will, in fact, revolutionize regulations. Will this revolution also impact new industrial developments?
Selected aspects of the zoning reform
All the opinions on the potential consequences of the Zoning Act amendment are, as of now, mere speculations. The actual consequences will not be known until after 2026 – the year in which the new regulations will take full legal effect. That is because by the end of 2025 the authorities of all the 2,477 communes in Poland (as of 2023, according to data from Statistics Poland) are expected to adopt new general plans which will replace zoning studies. Below are the most important changes resulting from new regulations for new development, including warehouse, logistics and manufacturing projects :
• The requirement to ensure compliance of zoning decisions with the provisions of a general plan, with such decisions to be issued only for areas designated in the general plan, i.e. the so-called infill development areas
• The limitation of the area for analysis in a zoning decision to a 200 metre radius
• The introduction of integrated development plans to be adopted at an investor's request
• Statutory regulations on designating new development sites using strict mathematical formulas
• The introduction of a mandatory rezoning fee at the fixed rate of 30% of the value growth irrespective of whether a site is sold or not.
The above changes are likely to impact the environment for greenfield developments, including warehouse and manufacturing projects. Without going too deeply into technicalities, let me highlight their potential consequences for the development market.
The reduced role of a zoning decisio
The amended regulations on zoning decisions are expected to fill the gap created by the Zoning Act of 2003. According to the new Zoning Act, zoning decisions will have to comply with the intended land use specified in a local government's general plan (previously they were issued irrespective of the provisions of a zoning study). After 2025, zoning decisions may be issued only for areas designated by a local government, i.e. for infill development areas. Such development areas will be designated using formulas specified in the Zoning Act and secondary legislation - this will result in a significant reduction in the number of areas for which zoning decisions may be issued. Another very important factor is that only residential buildings will be taken into consideration in designating such areas. This redefinition of a zoning decision will completely change its role and radically reduce flexibility in locating new buildings.
An integrated development plan as a form of a local zoning plan
The Zoning Act amendment also provides for a tool that has long been in unofficial use on the market in many well-developed cities but was not enshrined in law: "an urban planning agreement", i.e. an integrated development plan. Put simply, an investor requesting a local zoning plan or a change to it may officially enter into an agreement with a local government so that a planning process is carried out for a fee for the preparation of a zoning plan; additionally, the investor will bear the costs of completing a complementary project in a given local area, e.g. building a road. From a purely theoretical perspective, this is what many investors had expected and what has been in unofficial use in many locations for a long time. From an investor's point of view, it may seem good that an open arrangement can be made with the local government of a commune. This begs a question: will it not become the only planning tool in the future and will its legal form work in practice, given many uncertainties in legal regulations? There is a risk that only those who have the capacity to invest substantial capital will be able to afford to pay for a change to a zoning plan.
New general development plans
The new regulations have also sanctioned a land use balance that has been in use for some time. Previously, in order to designate a new residential or commercial development site, a zoning study had to include a mathematical rationale for designating such a site. If the number of inhabitants in a given commune is not growing (and few cities are seeing any growth), there is really hardly any need for new development land. Some discretion was allowed in calculating a land use balance until recently - from now on calculations will be made according to a specified formula. In some communes it has already become impossible to designate new development sites due to their land use balances, resulting in a very limited supply of land for new projects.
Rezoning fee changes
Another notable change introduced by the Zoning Act amendment of 2023 relates to a rezoning fee - a fee charged for an increase in the value of a property caused by a change to a zoning plan. A rezoning fee used to be determined in a local zoning plan for a period of up to five years from the adoption of a plan and amounted to a maximum of 30% of the value growth. It was collected only when a property was sold prior to the lapse of five years from the adoption of a plan on the basis of a property valuation report showing an increase in its value. In the new legal environment, a rezoning fee will be charged mandatorily in the maximum permitted amount, with no time limitation and irrespective of whether a property is sold or not. This is likely to impact property prices.
Will these changes impact the availability and prices of development land?
The consequences of these few changes introduced by the Zoning Act amendment are likely to vary depending on specific circumstances, practices and interpretation of regulations. These may include a change to the availability of development land. Looking to the future, the supply of new development sites is likely to become more limited due to tighter conditions for obtaining zoning decisions, a lack of rationale for designating new sites and a high cost of an expected change to a local zoning plan given local governments' expectations regarding new developments. If the process of designating new development sites in areas targeted by investors is difficult and protracted, it is likely to result in strong competition among buyers. This in turn will lead to an increase in the prices of properties offering development potential and a sharp decrease in the prices of those lacking the required documentation.
Summary
To sum up, it is worth reconsidering or accelerating real estate acquisition decisions for the above reasons. As local zoning plans and land use are a relatively complex matter, it is advisable to draw on the expertise of a property adviser who understands the nuances of the real estate sector. The Industrial and Warehouse Agency of Cushman & Wakefield has highly specialised professionals providing advisory on property acquisition, preparation and disposal.
Was this article helpful?