What makes up a total warehouse occupancy cost?
28 august 2023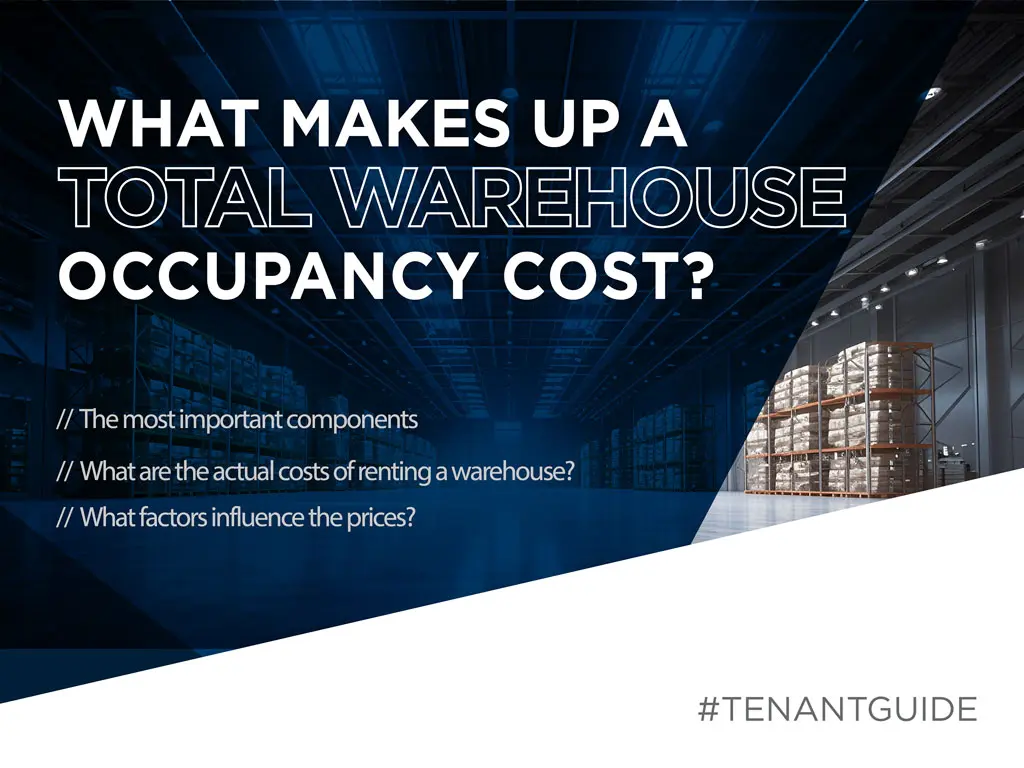 Leasing a warehouse is a mission-critical factor for many businesses across the board and space per se is becoming a valuable commodity. Space suitable for storing goods, components or inventory is an essential part of an efficient supply chain. Choosing the right warehouse space is, however, quite a challenge. What are the actual costs of leasing a warehouse? What factors influence prices? You will find the answers in the article below.
The costs of leasing a logistics warehouse include several key items:
1. Rent - it is the basic cost of leasing warehouse and office space that is quoted on a square meterage basis.
2. Service charges - these include property maintenance and management costs such as the costs of infrastructure maintenance, security, snow removal, cleaning, waste disposal, as well as taxes and charges - mainly local government taxes imposed in the commune in which an industrial park has been built. They are recalculated for each year of a lease term.
3. Energy costs - these include electricity charges reviewed against readings on submeters installed in leased space, as well as the costs of warehouse heating or cooling on an as-needed basis and as required for business operations.
4. Insurance - the costs of insurance against losses arising from theft of or damage to goods or various incidents.
Location:
Lease rent for a logistics warehouse is influenced by several key location factors - these include the geographical position in particular as warehouses situated in strategic sites, close to major roads, motorways and ports will usually command higher headline rents on account of easy access to transport networks. Another key element is transport availability, i.e. proximity to various modes of public transport - be it road, rail, sea or air - which can enhance a property's value and drive rents up. The ability of a warehouse to efficiently manage logistics operations and to respond to individual business needs is an added value. The choice of a suitable location is likely to impact the optimization of logistics processes, thereby helping to improve logistics efficiency and cut costs. Rental rates may, however, vary significantly by region and amenities provided.
Fit-out standard:
The fit-out standard of a logistics warehouse tends to be client-specific and depend on a variety of factors. In my opinion, before you decide to lease logistics space, it is critical that you carefully reexamine your operations: the nature of your business and the types of goods you store as these are likely to impact your choice of a fit-out standard. Warehouse fit-out solutions to be considered in cost estimation also include safety measures such as surveillance systems, alarms, fire control systems and appropriate signage.
It is worth noting that developers of new logistics parks are competing with one another to deliver warehouses that will stand out with the highest ratings in sustainability certification schemes. In addition, every newly constructed logistics park must be net-zero carbon by 2050. As part of the drive towards sustainability, most modern industrial parks will now feature photovoltaic panels on roofs - this is also likely to impact the fit-out costs and standard of a warehouse. Some industrial park developers opt for better-insulated walls in new projects to reduce heat consumption and subsequently to bring down energy bills. What is also relevant when it comes to making a lease decision is that - unlike older warehouses equipped with fluorescent lamps - newly built logistics parks feature new generation LED lighting that helps cut energy costs.
The size of space:
Lease rent for a logistics warehouse has a direct effect on the size of available space as it is the key factor impacting the costs of logistics operations within a building. In most cases, the price-size relationship is as follows: if the lease rent is very high, potential tenants often have a propensity to lease smaller spaces to keep costs low and to maintain a balanced budget; alternatively, existing tenants may choose to sublease surplus vacant space in consultation with a developer to optimize costs. That relationship, however, is likely to be more diverse and vary by location, demand and market competition.
Adapting a warehouse to individual client requirements:
Having warehouse space tailored to a client's needs is likely to significantly impact short- and long-term lease costs. An important determinant here is:
• The cost of refurbishment and adaptation. Tailoring warehouse space to individual client requirements may require refurbishment or adaptation, dividing space into special zones, e.g. for storing hazardous items, building special structures or installing additional fire control systems in dedicated spaces.
If you need to have space adapted to your needs in the long term, e.g. due to your special production or storage requirements, you are much more likely to negotiate more favourable effective rental rates. Long-term leases tend to carry lower rents in return for greater loyalty.
In summary, adapting warehouse space to individual client requirements may impact both short- and long-term lease costs. However, if appropriately planned and priced, it is likely to bring meaningful benefits such as a more efficient utilization of space and improved logistics processes, which will translate into savings in the long run.
Before you go...
The industrial leasing market continues to grow and mature. Would you like to bring down the total cost of leasing warehouse space? Before you make a decision regarding leasing a warehouse in a logistics park, we will carefully examine your requirements and present offers from various locations so that you are able to choose the best option for your logistics needs – that's what we are for. Please get in touch with our team so we may further assist you.
Read also: What impacts the price of land?
Was this article helpful?