Transloading terminal
16 may 2022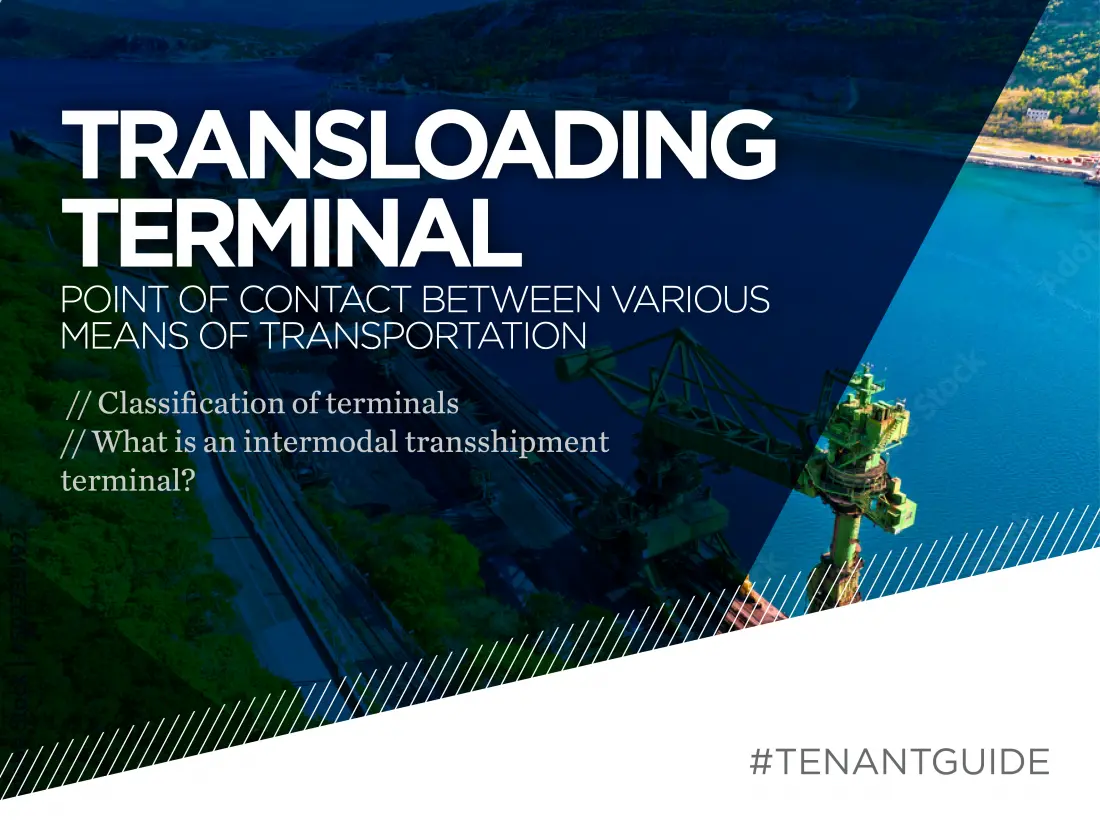 Freight and cargo transportation frequently involves more than one mode of transportation. The transfer of goods requires plenty of space, capabilities and processing multiple documents. Transloading terminals are built for this purpose.
What is a transloading terminal?
A transloading terminal is a place where shipments are transferred from one mode of transportation to another. It is also sometimes referred to as a point of contact between various means of transportation.
A transloading terminal is frequently used not only to transfer shipments, but also to store transportation units and goods, which also includes sorting, labelling and distribution. To function smoothly, it requires appropriate infrastructure, including gantry cranes, travelling and waterfront cranes, tractor units, trailers, loaders, excavators, and efficient workflow organization. Transloading terminals are also increasingly offering freight logistics and forwarding – to provide such services such facilities hire high-skilled specialists dedicated to process optimization.
Classification of terminals
There are several types of transloading terminals. They can be divided by location (sea, inland waterway, land and air terminals), size (small, medium-sized, large and very large), and type of freight handled (all-purpose, including break-bulk, bulk and mixed goods, and special freight, e.g. ferry terminals, LNG terminals and facilities handling unitized shipments).
An intermodal terminal
Intermodal transportation involves a combination of two or more means of transportation where goods are not transloaded but only an intermodal transport unit is transferred to a different mode of transportation. Intermodal transport units include containers, swap bodies and trailers.
Unlike a typical transloading terminal, an intermodal terminal is a place where an intermodal transport unit switches transportation modes without goods being transloaded.
Transloading terminals in Poland
In 2020, Poland had 34 operational intermodal terminals, including four sea terminals (sea-rail and sea-road) and 30 land terminals (rail-road). In 2021, it already had 43 . The highest concentration of intermodal terminals is in Łódzkie, Greater Poland and Silesia. 
With more such facilities being built, intermodal transport is becoming increasingly popular both in Poland and abroad. Its growth helps bring the costs of freight traffic down and establish business relationships with foreign contractors, thereby ensuring seamless trading. 
Being a point of contact between various means of transportation, transloading terminals play a key role in freight logistics and forwarding. Looking ahead, they are likely to gain in importance as intermodal transport is one of the fastest-growing sectors of the economy.
Was this article helpful?